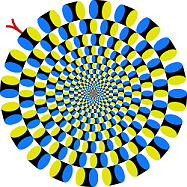 Illusion news 18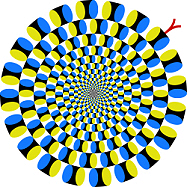 since June 4, 2014
---
Congratulations!
<July 22, 2018>
---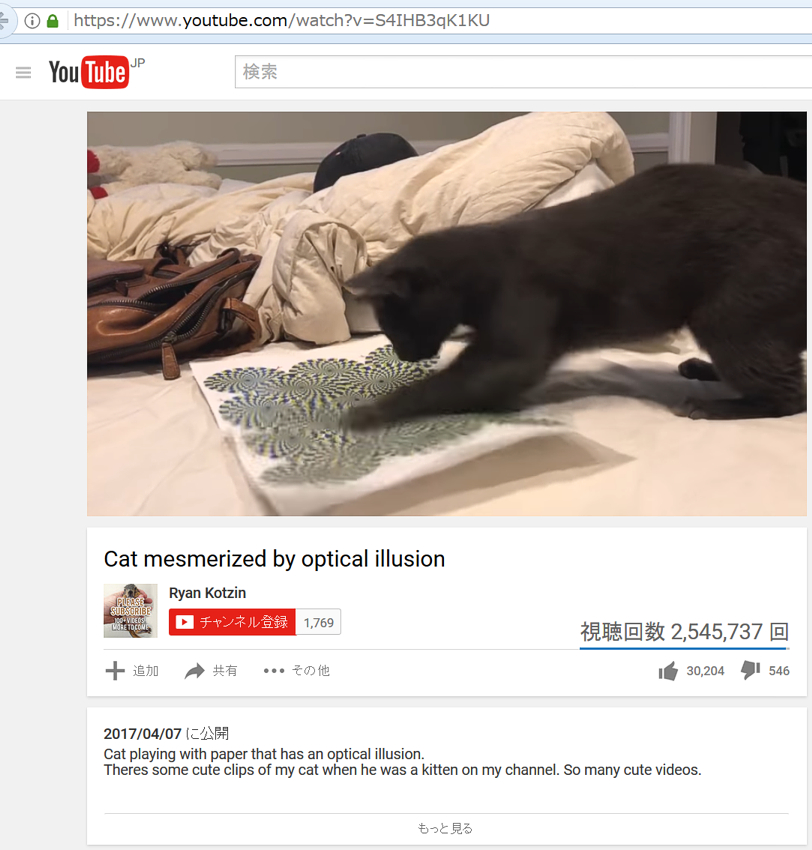 https://www.youtube.com/watch?v=S4IHB3qK1KU
http://www.huffingtonpost.com/entry/cat-vs-optical-illusion_us_58ea914ee4b058f0a030039d?ncid=fcbklnkushpmg00000063

cf.
https://www.youtube.com/watch?v=CcXXQ6GCUb8&feature=youtu.be
<April 11, 2017>
---
The number of followers of my Twitter has rapidly increased. <March 1, 2017>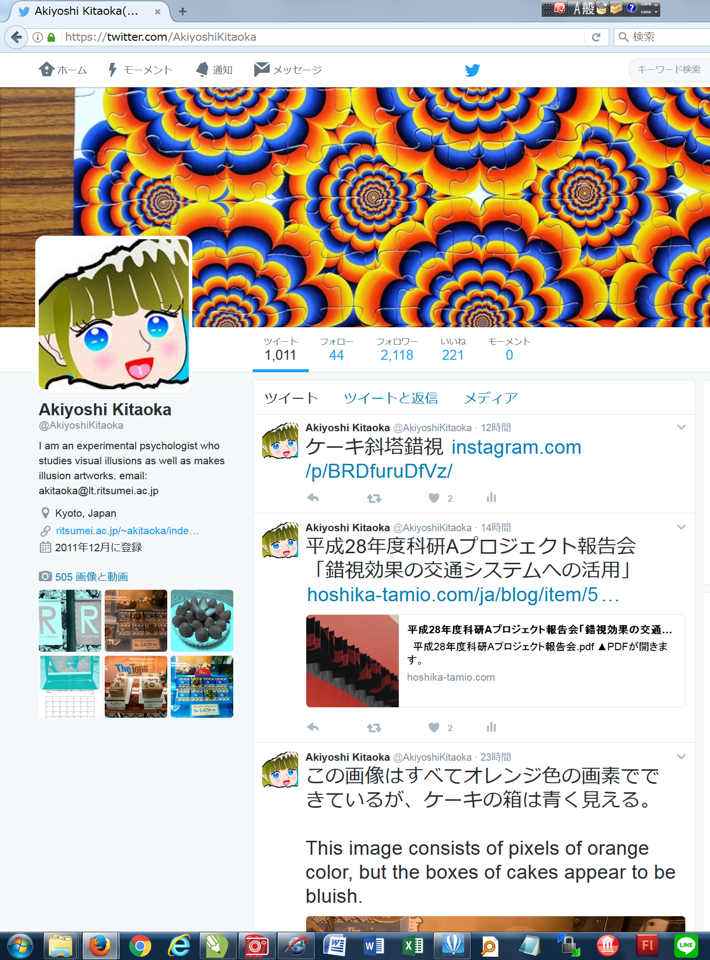 Article
https://motherboard.vice.com/en_us/article/this-picture-has-no-red-pixelsso-why-do-the-strawberries-still-look-red?utm_source=vicefbus
http://www.bbc.co.uk/newsbeat/article/39132378/these-strawberries-are-red-right-wrong
This image seemed to trigger it.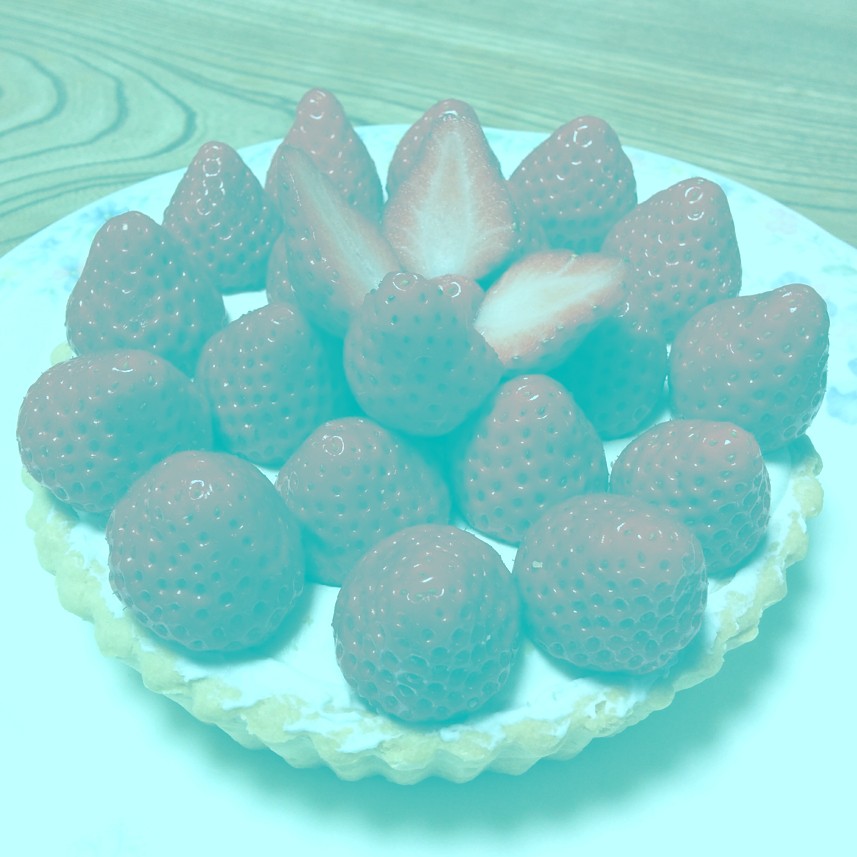 https://www.facebook.com/akiyoshi.kitaoka/posts/10209232017652265

On Twitter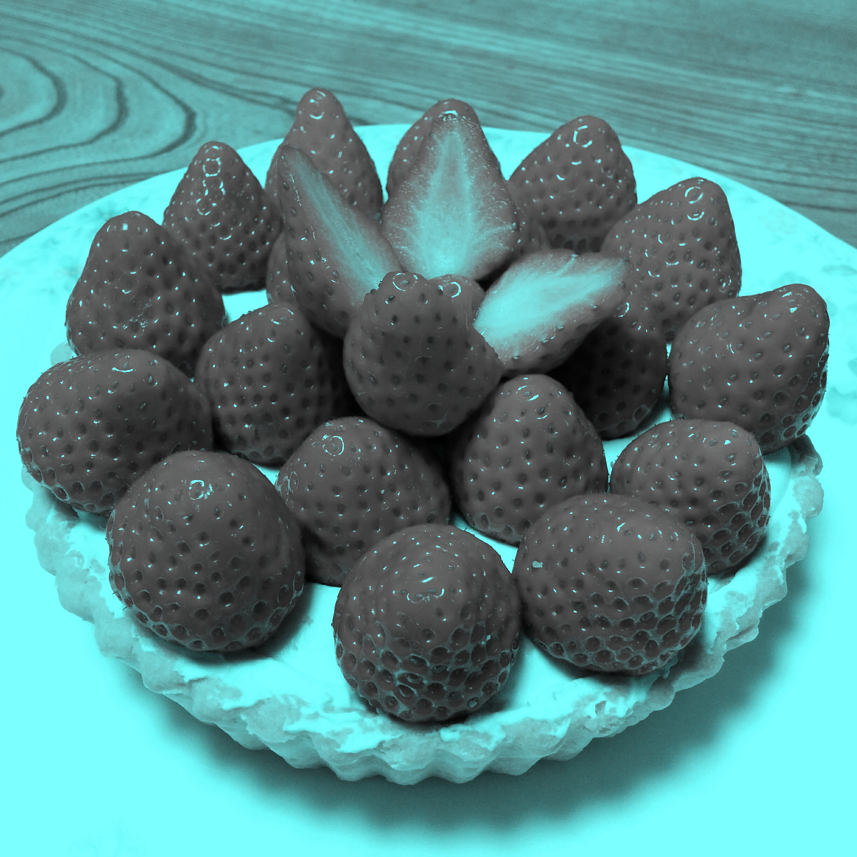 https://twitter.com/AkiyoshiKitaoka/status/836382313160171521/photo/1
---
A post to facebook at 11:50 on September 11, 2016 that introduced Ninio's extinction illusion was widely accepted.


https://www.facebook.com/akiyoshi.kitaoka/posts/10207806663219295
【9月13日 14:55 現在】
Likes! 340
Shares 16735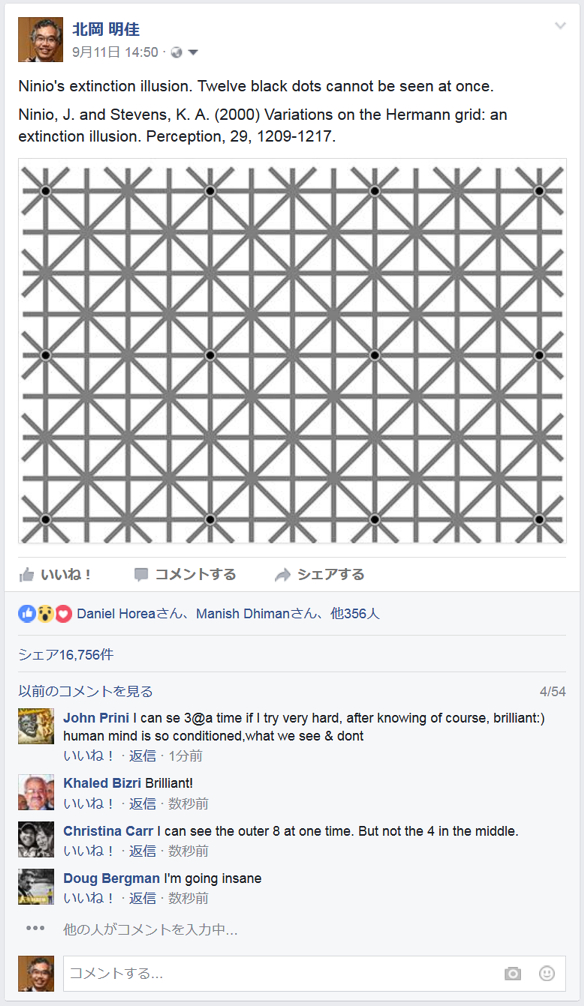 ---
from Art
Here's why you can't see all twelve black dots in this optical illusion
Now you see them, now you don't
THE VERGE, by Rachel Becker, September 12, 2016 02:30 am
---
from Shuichiro
How many spots can you see in this optical illusion?
BBC News: Science & Environment, 12 September
---
The tweet by Will Kerslake triggered this event.
https://twitter.com/wkerslake/status/775105333333204992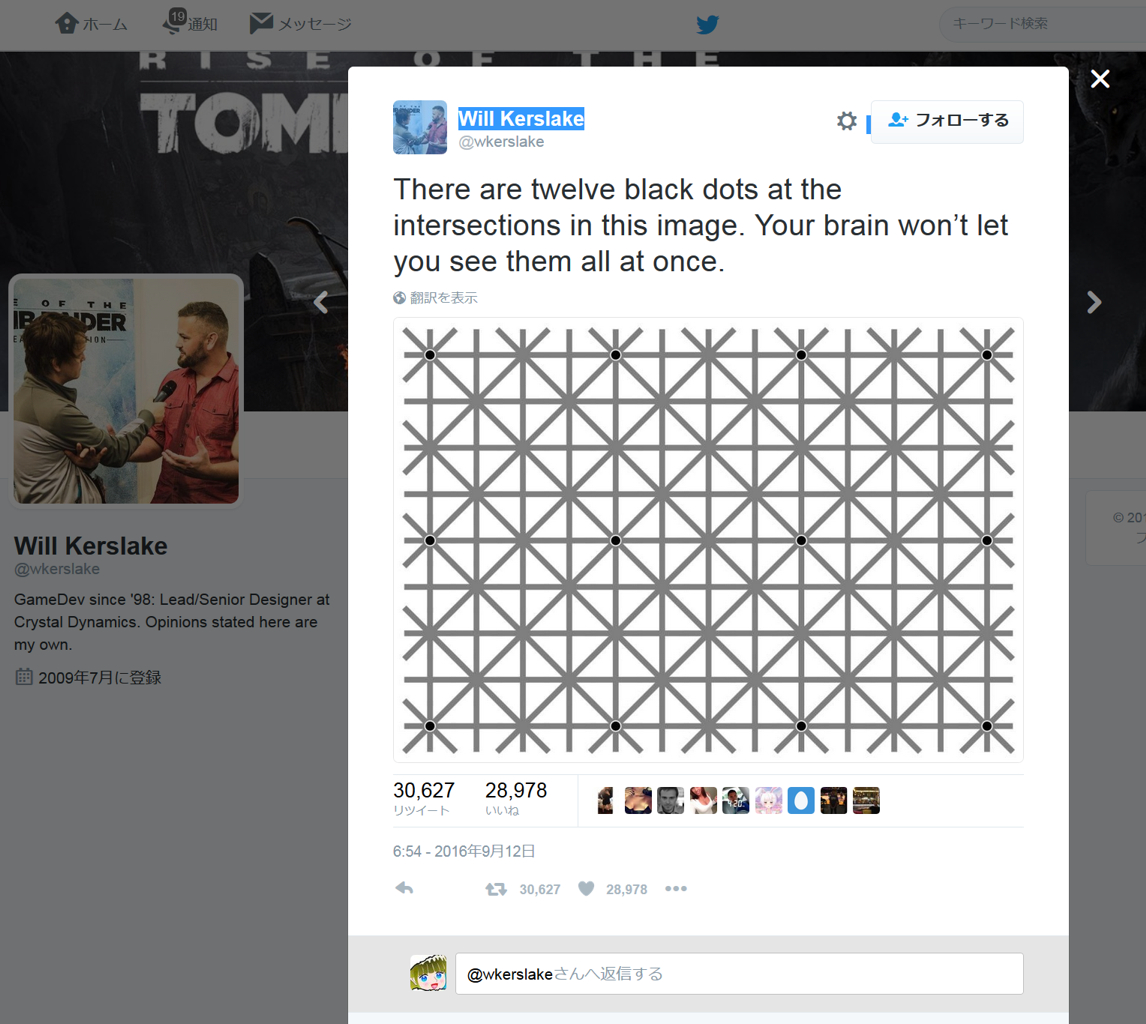 <September 13, 2016>
---
Wie viele schwarze Punkte kannst du in diesem Bild gleichzeitig sehen?
http://ze.tt/wie-viele-schwarze-punkte-kannst-du-in-diesem-bild-gleichzeitig-sehen/
---
http://nlab.itmedia.co.jp/nl/articles/1609/13/news157.html
21871 shares and 2805 likes at 10:15 am (September 14)
---
http://headlines.yahoo.co.jp/hl?a=20160913-00000116-it_nlab-sci
<September 14, 2016>
---
ICP2016 in Yokohama (July 24-29, 2016)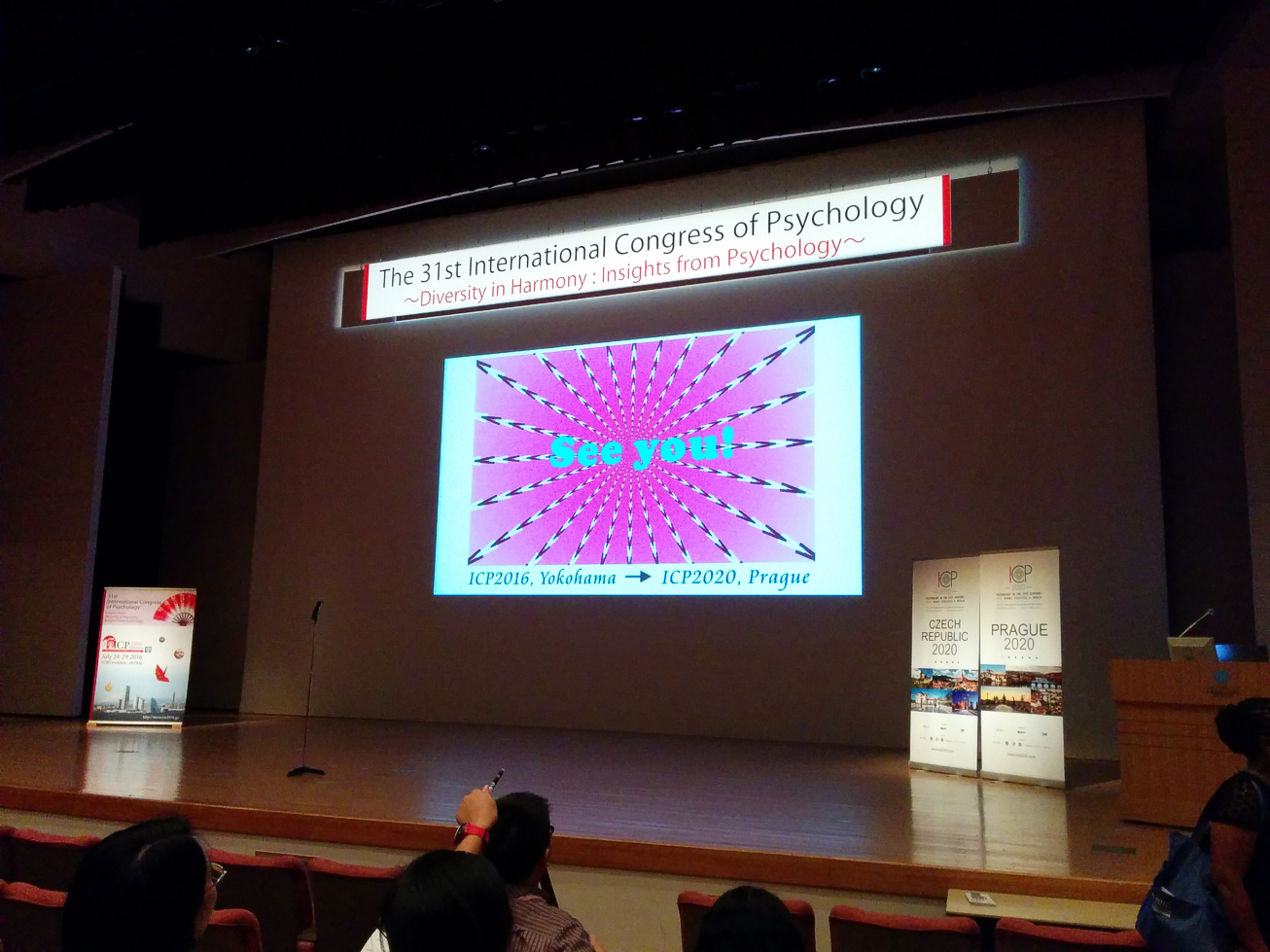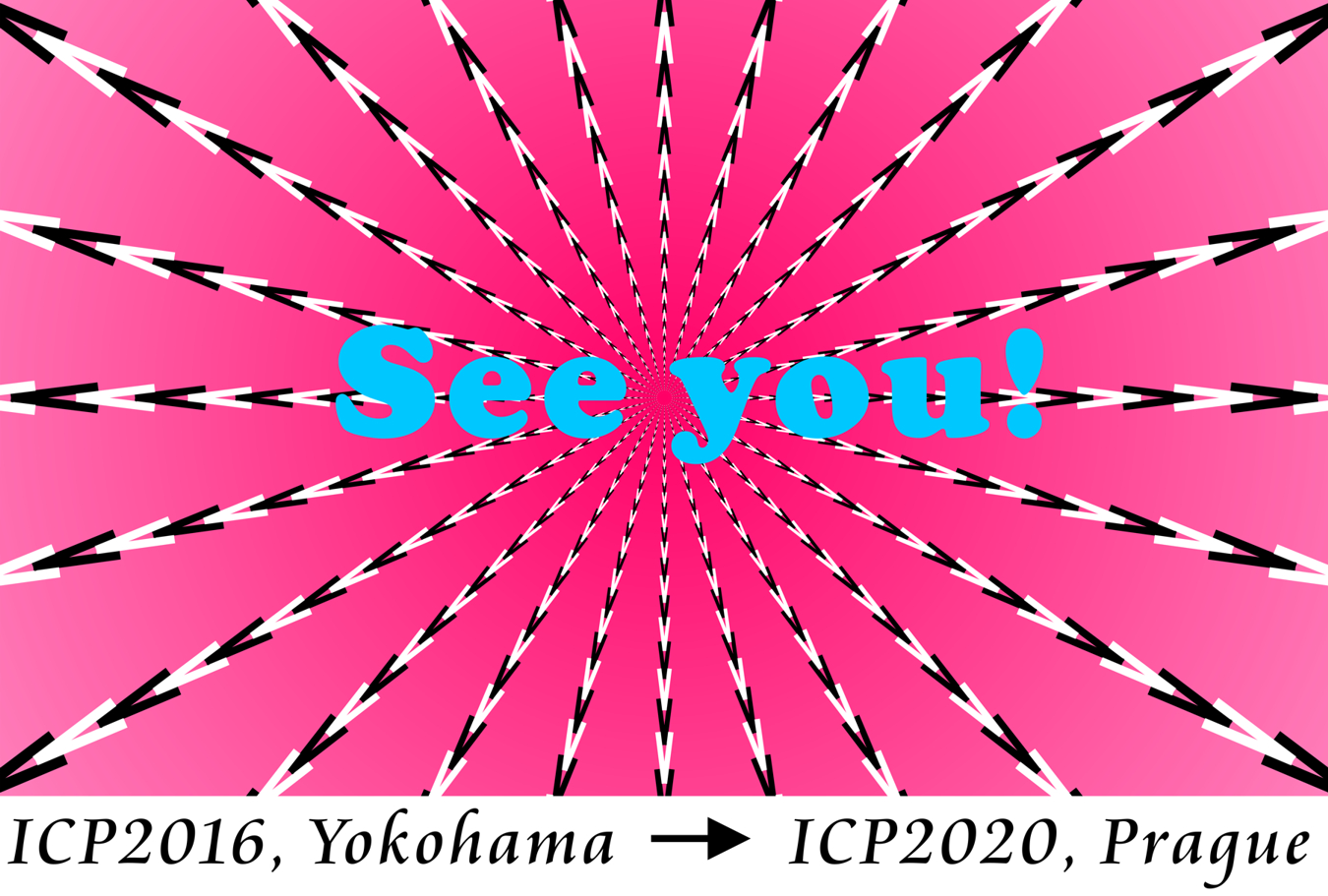 <July 31, 2016>
---
"Ibaraki Illusion Demos" @Ritsumeikan University, Osaka Ibaraki Campus

<May 16, 2016>
---
Ouchi-Spillmann illusion (Ouchi illusion)
Spillmann, L., Saito, K. and Komatsu, H. (2016). Hajime Ōuchi – a mystery resolved Perception, 45, 371-374.
http://pec.sagepub.com/content/45/4/371.full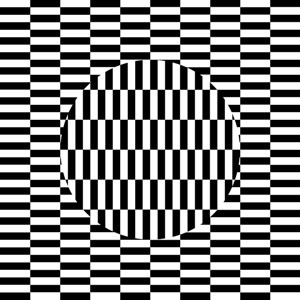 <April 24, 2016>
---
The Test of Psychology in Japan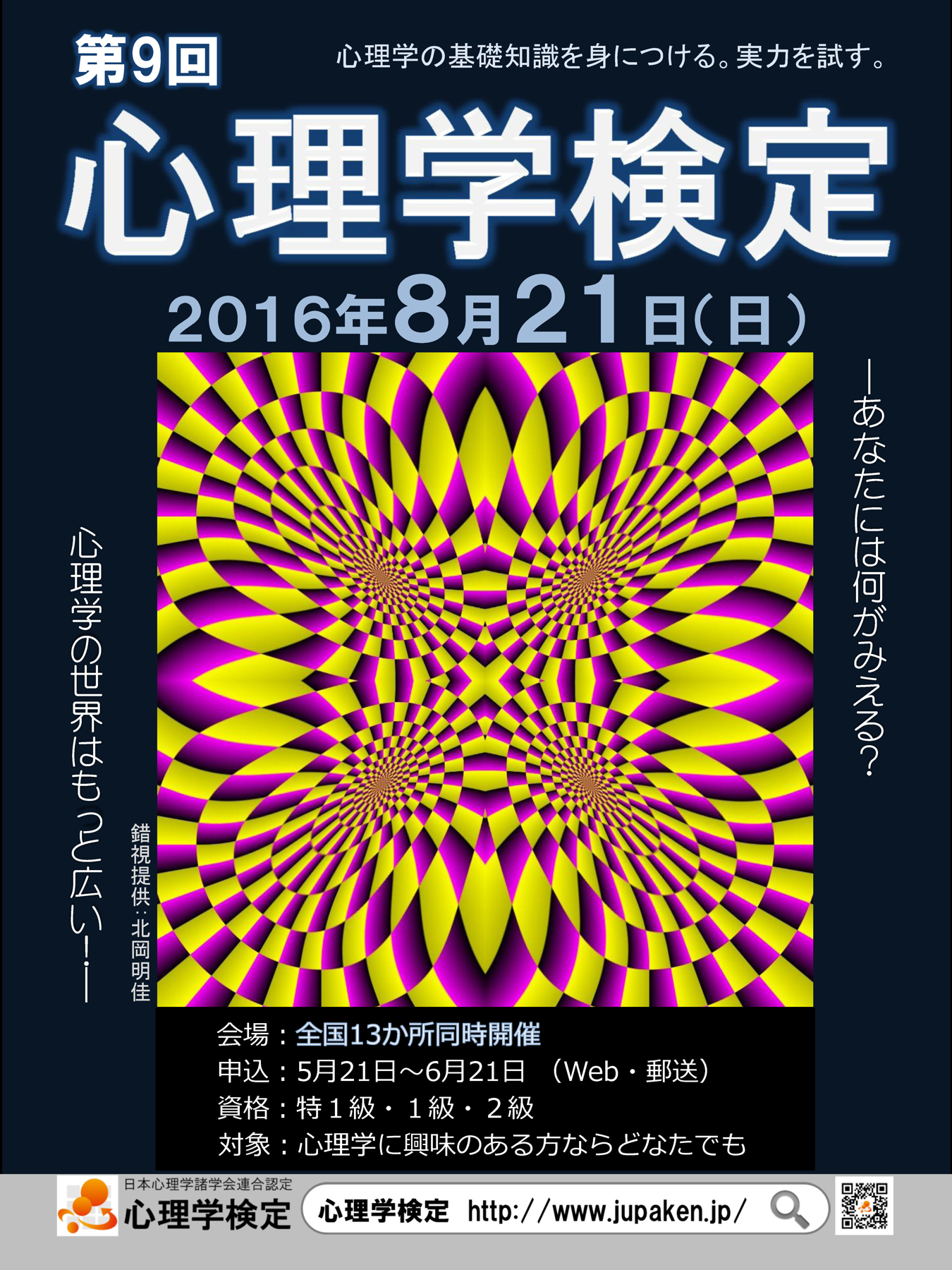 <March 18, 2016>
---
<February 28, 2016>
---
from CVNet
Congratulations to the winners of the 11th annual Best Illusion of the Year Contest!
Online voters around the world chose the best illusions of the year from Thursday, June 11th 7pm EST to Friday, June 12th 7PM EST.
First Place and an award of $3,000 USD went to "Splitting Colors," a color illusion by Mark Vergeer from KU Leuven, Belgium.
Second Place and an award of $2,000 USD went to "Ambiguous Garage Roof," a perspective illusion by Kokichi Sugihara from Meiji University, Japan.
Third Place and an award of $1,000 USD went to "The Day it Rained on Lowry," a motion illusion by Michael Pickard from VisuallyDirectedDesign.com in the UK.
Enjoy the winning illusions and all Top 10 Finalists at http://illusionoftheyear.com
Illusion submissions are now accepted for the 12th edition of the Best Illusion of the Year Contest, to be held in 2016.
On behalf of the Executive Board of the Neural Correlate Society:
Jose-Manuel Alonso, Stephen Macknik, Susana Martinez-Conde, Luis Martinez, Xoana Troncoso, Peter Tse
The Neural Correlate Society is a tax-exempt 501(c)3 non-profit organization, whose mission is to promote the public awareness of neuroscience research.
<June 22, 2015>
---
Goddamn Colour-Switching Dress (Dress illusion or Dress debate)
According to Stephen Macknik on CVNet on March 7-10:
1. Swiked originally tweeted the image on tumblr on February 25, 2015.
2. She did ask the 2AFC question, not the open ended question: http://swiked.tumblr.com/post/112073818575/guys-please-help-me-is-this-dress-white-and
3. She then retweeted herself on instagram on 2/27 (unless by some freak coincidence there is a different user on Instagram named swiked who just so happened to retweet the tumblr post).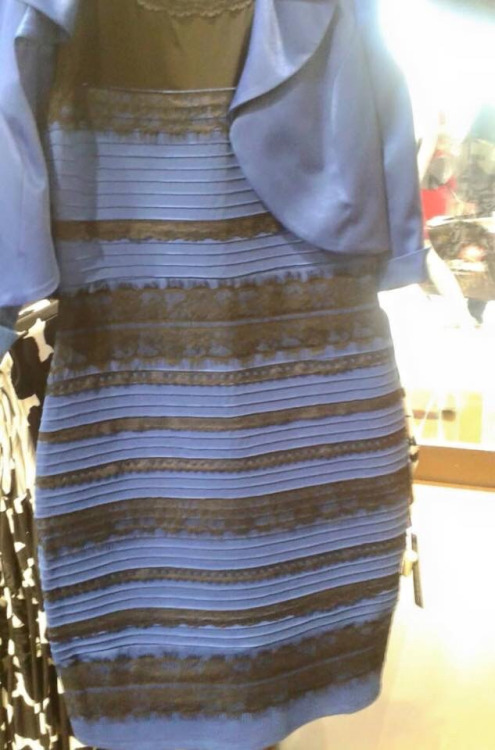 (c) Cecilia Bleasdale 2015
"Original" (Royal-Blue #TheDress Lace Bodycon Dress, Roman Originals, UK)
Akiyoshi Kitaoka talked about this issue in his poster session of the International Symposium on Psychological vs Mathematical Approaches to Optical Illusion held in the Nakano Campus of Meiji University, Tokyo Japan, on March 4-6, 2015.
Kitaoka, A. (2014). Color Illusions Accompanied by Color Constancy Phenomena. Demoes at the Exhibition, International Symposium on Psychological vs Mathematical Approaches to Optical Illusion (Tokyo Symposium on Optical Illusion 2015), Meiji University, Nakano Campus, Tokyo, Japan, March 5-7, 2015. Demo (PDF)
Akiyoshi Kitaoka got Japanese TV interviews there on March 4 and 5 in this regard.
<March 10, 2015>
---
ECVP 2015 Illusions Evening Event

The Illusions Parade (linked to ECVP and VSAC) is an exhibition/workshop event open to the public. It will bring together scientists and artists.
They will exchange knowledge and expertise in perceiving and performing experimental as well as artistic representations of illusions.

To exhibit in the gallery you will need to generate a new visual illusion (if you are a scientist) or an artwork representing perceptual illusions (if you are an artist).
Different techniques can be used, including: visual/audiovisual platforms, projections, installations, any form of painting and sculpture.

Deadline: April 1, 2015

More information:
www.ecvp.org/2015/illusionsparade.html
<January 14, 2015>
---
The 23rd Symposium of the International Colour Vision Society (ICVS 2015) will be held on July 3rd-7th, 2015 in Sendai, Japan. This international symposium is expected to attract around 150 participants from all over the world, with cutting-edge research presentations by prominent researchers in the field of colour-vision.
<December 28, 2014>
---
International Symposium on Psychological vs Mathematical Approaches to Optical Illusion

Date: March 4-6, 2015
Place: Nakano Campus of Meiji University
Organizers: Meiji Institute for Advanced Study of Mathematical Sciences
        JST, CREST Project on Computational Illusion
http://compillusion.mims.meiji.ac.jp/conf/index.html
Invited speakers:    [Abstracts]
Stuart Anstis (Dept of Psychology, University of California, San Diego, USA)
Simone Gori (Developmental and Cognitive Neuroscience lab, Department of General Psychology, University of Padua; Developmental Neuropsychology Unit, Scientific Institute "E. Media,", Italy)
Makoto Ichikawa (Department of Psychology, Chiba University, Japan)
Masanori Idesawa (UEC Museum of Communications; UEC Tokyo, Japan)
Hiroyuki Ito (Faculty of Design, Kyushu University, Japan)
Akiyoshi Kitaoka (Department of Psychology, Ritsumeikan University, Japan)
Rob van Lier (Donders Institute for Brain Cognition and Behaviour, Radboud University Nijmegen, The Netherland )
Baingio Pinna (Department of Humanities and Social Sciences, University of Sassari, Italy)
Brian Rogers (Department of Experimental Psychology, University of Oxford, Oxford, UK; Department of Psychology, St Petersburg State University, St Petersburg, Russia.)
Sergio Roncato (Dipartimento di Psicologia Generale, Universita di Padova, Italia)
Arthur Shapiro (American University Washington D.C., USA)
Kohske Takahashi (Research Center for Advanced Science and Technology, the University of Tokyo, Japan)
Dejan Todorović (Laboratory of Experimental Psychology, Department of Psychology, University of Belgrade, Serbia)

Chair:     Kokichi Sugihara (Meiji University)
Vice Chair: Akiyoshi Kitaoka (Ritsumeikan Univeristy)
Organizing Committee Members:
        Yasushi Yamaguchi (University of Tokyo)
        Kazuhiro Ueda (University of Tokyo)
        Homei Miyashita (Meiji University)
        Akiyasu Tomoeda (Musashino University)
        Haruaki Fukuda (University of Tokyo)
        Hideki Todo (University of Tokyo)
        Hiroshi Ueda (University of Tokyo)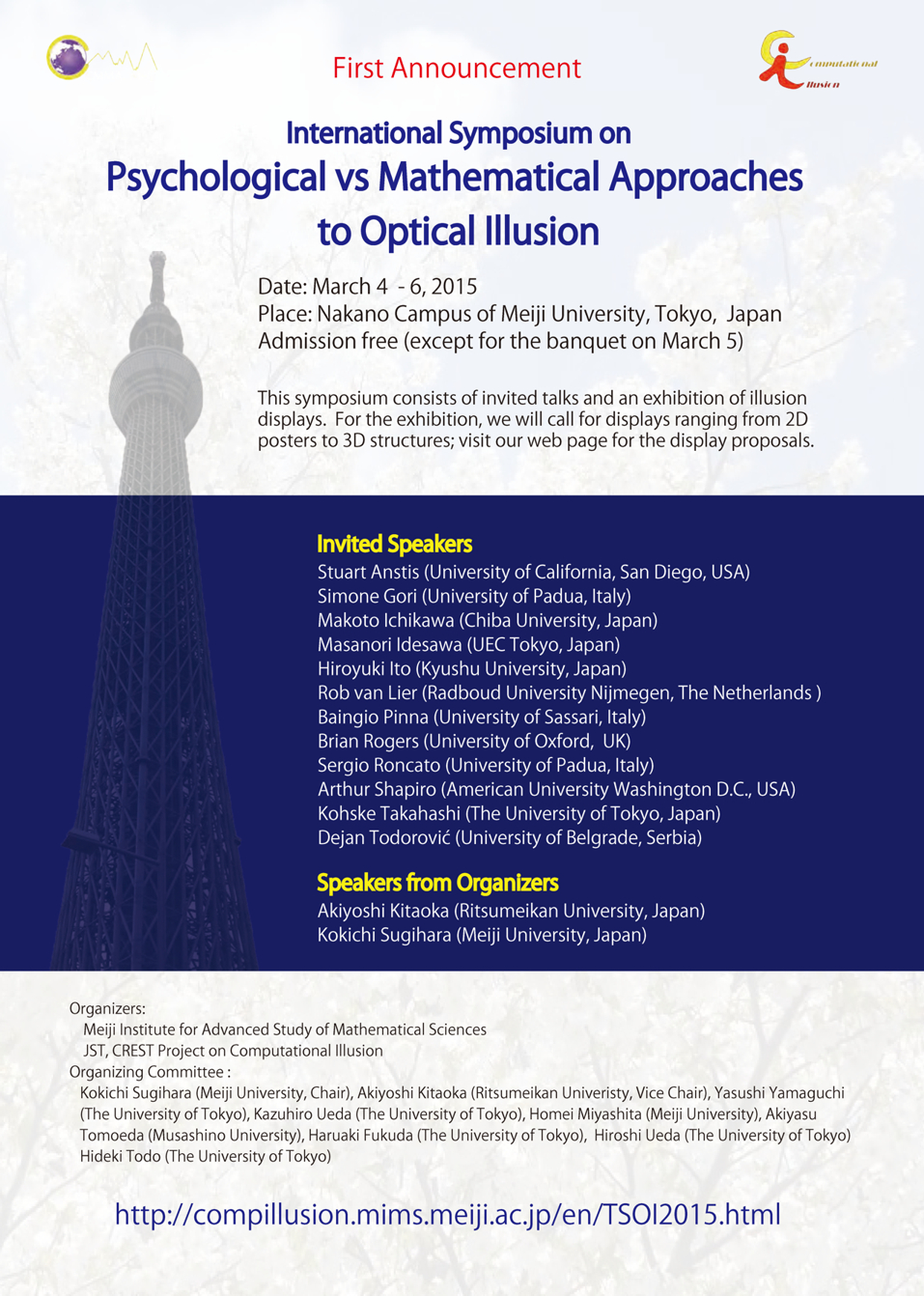 <November 10, 2014>
---
Zabikhulla S. Saipov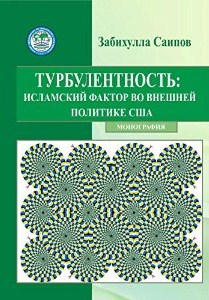 <November 10, 2014>
---
<November 1, 2014>
---
A new paper has been published!
Kitaoka, A. (2014). Left bias of gaze perception in a cartoon face. Psihologija, 47(3), 315-318.
http://www.doiserbia.nb.rs/issue.aspx?issueid=2281 (open access)
Abstract: Comparing a cartoon face drawn by the author with its mirror image, asymmetry of gaze perception or a left bias was revealed, whereas the inverted faces showed no bias. This novel finding is discussed.
<October 22, 2014>
---
"If the observer moves toward the window, then the distant object will shrink in apparent size and appear farther away."
Walker, J. T., Rupich, R. C., and Powell, J. L. (1989). The vista paradox: a natural visual illusion. Perception & Psychophysics. 45(1): 43-48.


cf. Fukuda, H. and Seno, T. (2011). Shrinking neighbors: A quantitative examination of the 'Shrinking Building illusion'. Seeing & Perceiving, 24, 541-544.
<October 12, 2014>
---
Kitaoka, A. (2014). Color-dependent motion illusions in stationary images and their phenomenal dimorphism. Perception, 43(9), 914-925.
http://www.perceptionweb.com/abstract.cgi?id=p7706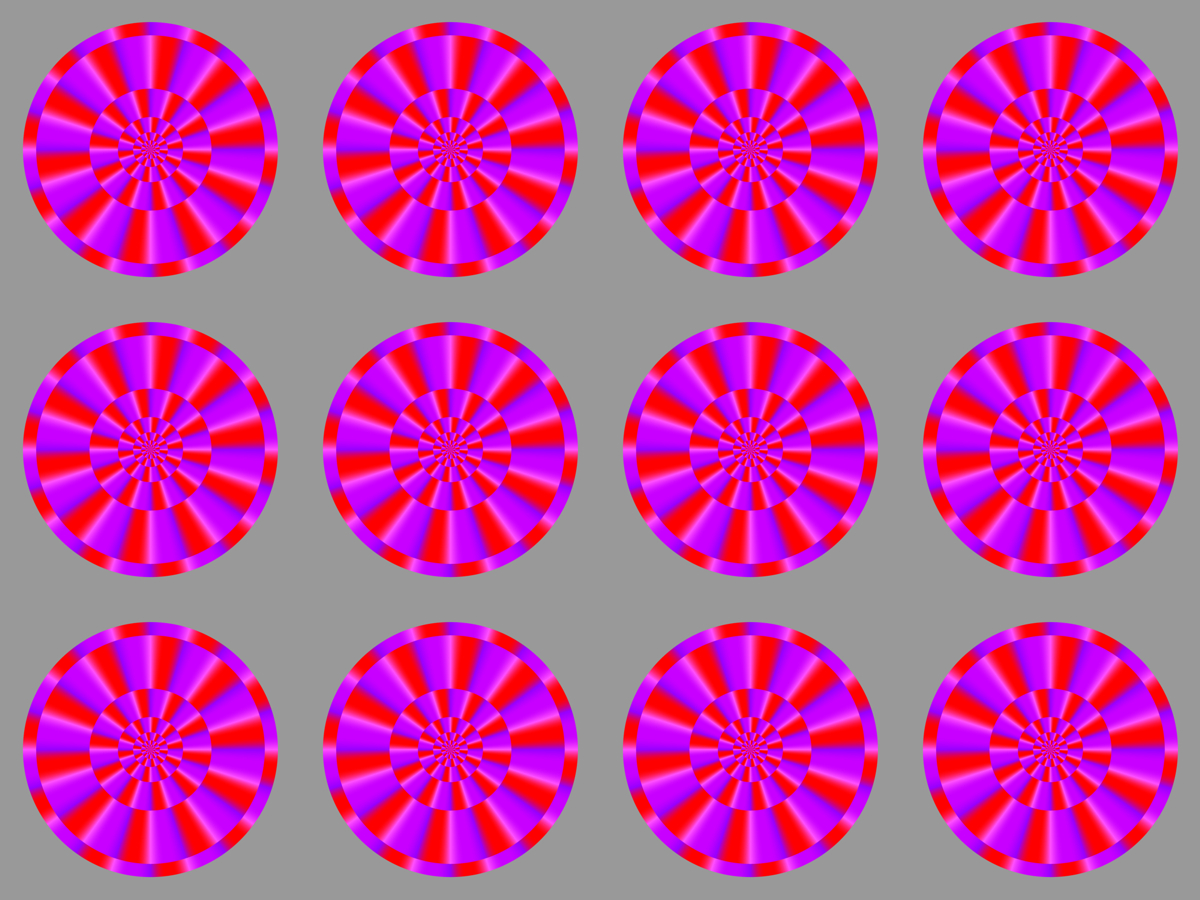 <September 27, 2014>
Announcing Perception volume 43 issue 9

Volume 43 issue 9 has now been finalised and is available here.
Contents

Special issue: illusions and delusions
The Barn
Bernd Lingelbach
Delusions about illusions
Brian Rogers
Geometrical optical illusionists
Nicholas J Wade
The elusive Johann Joseph Oppel (1815–1894)
David Phillips, Nicholas J Wade
Visual illusions on the Internet: 15 years of change in technology and user behaviour
Michael Bach
A gestalt account of lightness illusions
Alan Gilchrist
Modelling the Mach bands illusion by means of a diffusion model
Janos Geier, Mariann Hudák
Color-dependent motion illusions in stationary images and their phenomenal dimorphism
Akiyoshi Kitaoka
Adding rotation to translation: Percepts and illusions
Camilla M Magnussen, Harry S Orbach, Gunter Loffler
The more-or-less morphing face illusion: A case of fixation-dependent modulation
Rob van Lier, Arno Koning
EEG correlates of perceptual reversals in Boring's ambiguous old/young woman stimulus
Jürgen Kornmeier, Michael Bach
Dancing letters and ticks that buzz around aimlessly: On the origin of crowding
Hans Strasburger
Comparing subjective contours for Kanizsa squares and linear edge alignments ('New York Titanic' figures)
Barbara Gillam, Phillip J Marlow
The role of linear perspective cues on the perceived depth magnitude of the surfaces they are painted on: Proper-, reverse-, and flat-perspective paintings
Joshua J Dobias, Thomas V Papathomas
A single solid that can generate two impossible motion illusions
Kokichi Sugihara
Stable aesthetic standards delusion: Changing 'artistic quality' by elaboration
Claus-Christian Carbon, Vera M Hesslinger

Perception is a Pion publication. Please see the website for details on how to submit.
If you no longer wish to continue receiving these updates, please click here and you will be immediately removed from our mailing list.
---
Gori, S., Agrillo, C., Dadda, M., and Bisazza, A. (2014). Do Fish Perceive Illusory Motion? Scientific Reports, 4:6443, 1-6. DOI: 10.1038/srep06443
http://www.nature.com/srep/2014/140923/srep06443/full/srep06443.html
<September 24, 2014>
---
<August 9, 2014>
---
The content of the Crater News was picked up by four major outlets: the Daily Mail, Yahoo!, The Telegraph, and the Guardian
http://www.dailymail.co.uk/sciencetech/article-2716582/The-stomach-churning-optical-illusions-trippy-come-health-warning.html

http://www.telegraph.co.uk/news/picturegalleries/howaboutthat/11013444/Professor-Akiyoshi-Kitaokas-optical-illusions.html?frame=2997133

http://www.theguardian.com/science/gallery/2014/aug/05/dizzying-optical-illusions-akiyoshi-kitaoka-pictures

https://uk.news.yahoo.com/these-seven-optical-illusion-pictures-are-so-ingenius-you-ll-be-convinced-they-re-moving-160911101.html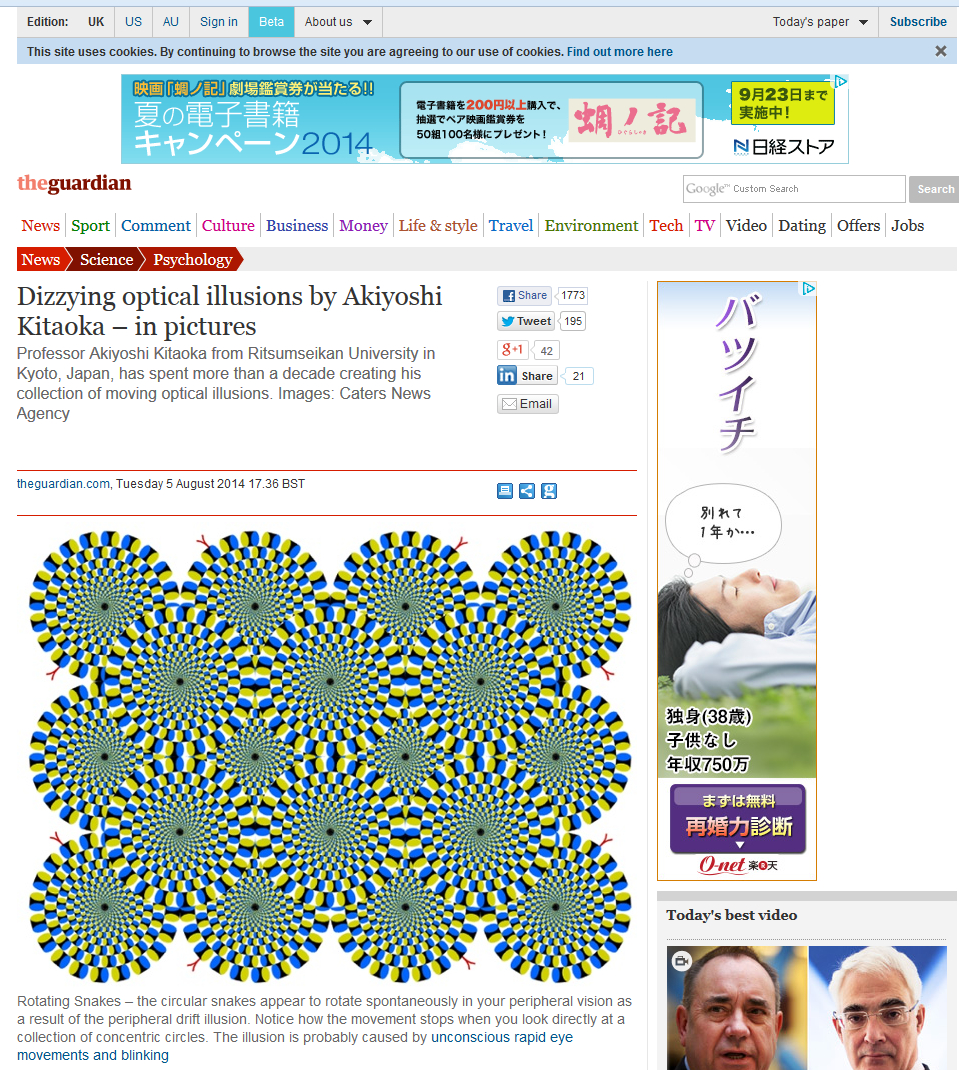 <August 6, 2014>
---
A new demonstration of Ames room has been devised!! Participants can see how they appear in real time!
< Method of Ogaki to demonstrate the Ames room >
Devised by Ogaki City Suitopia Center @Ogaki City Suitopia Center Art Gallery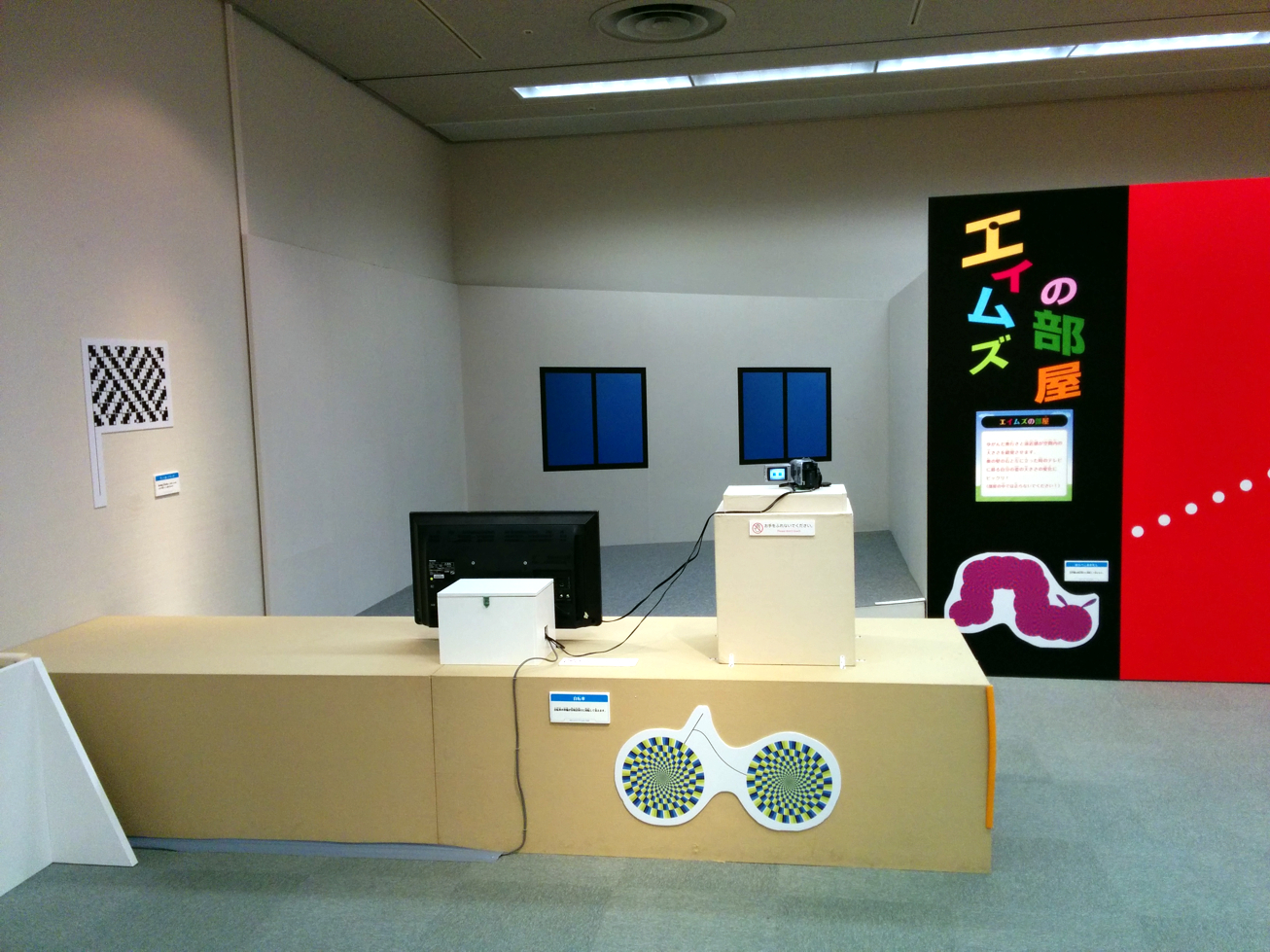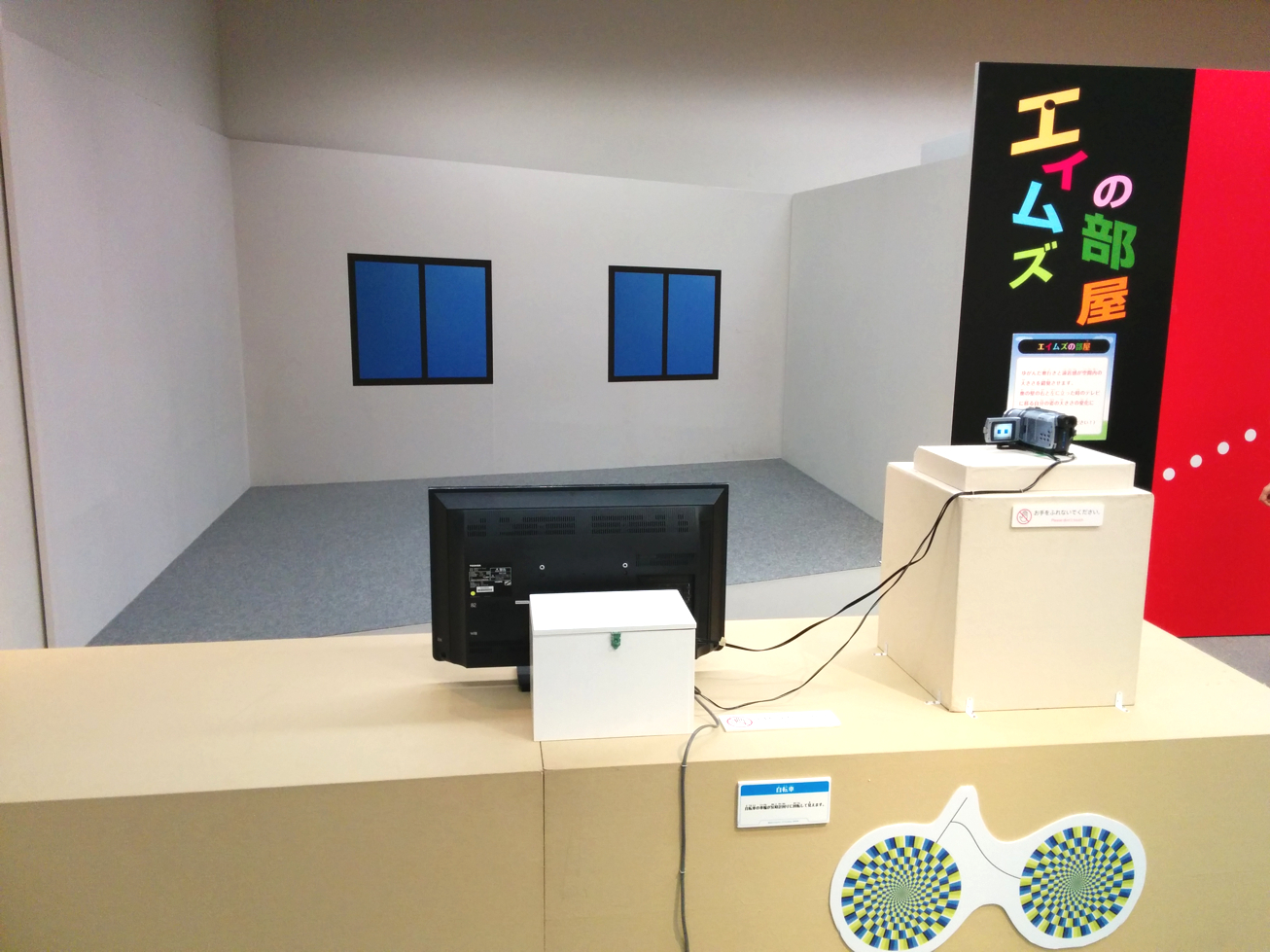 The point where the video camera is placed is the best viewing position. Participants can see their image in real time through the display placed at the center of the table.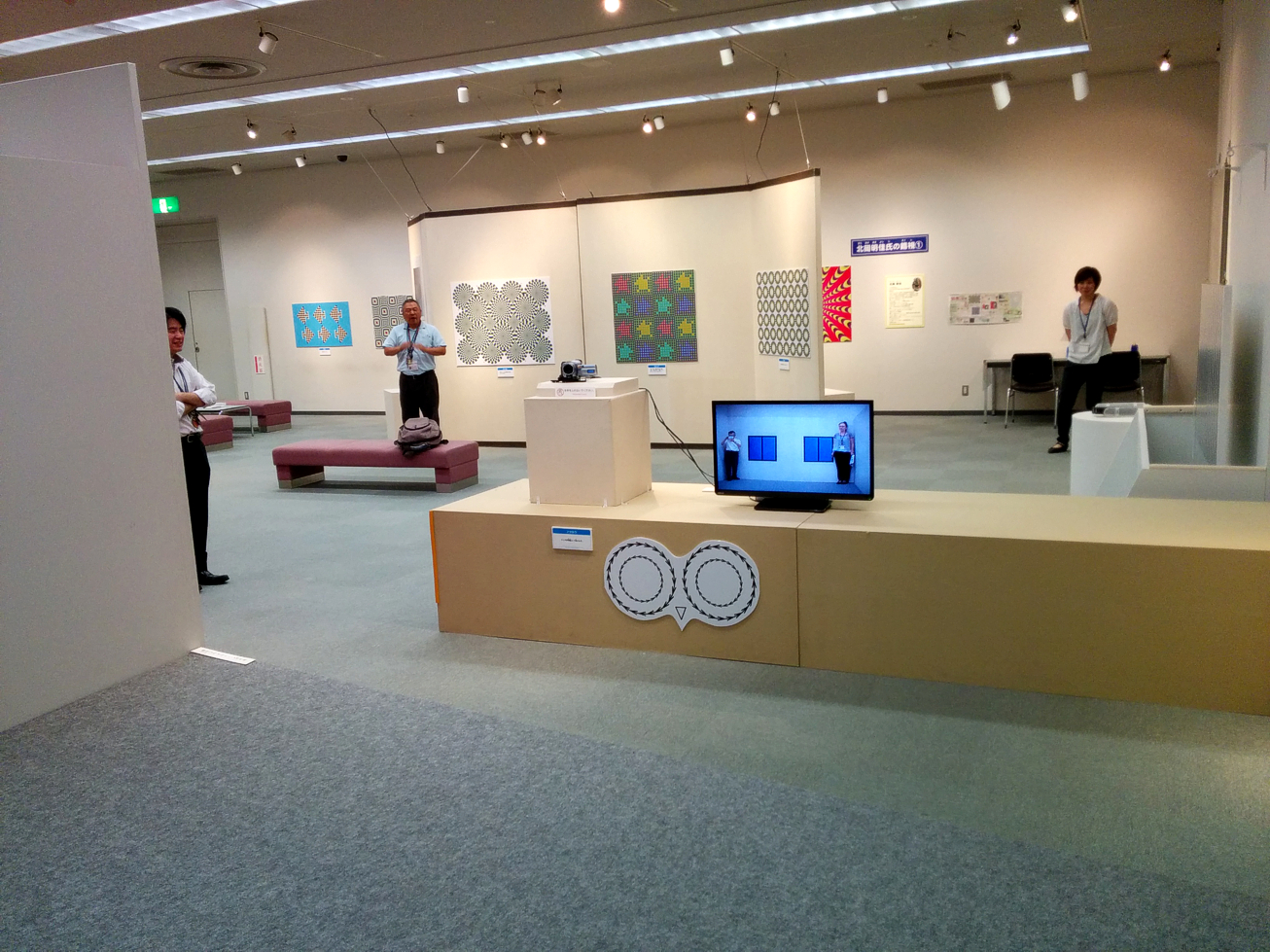 Akiyoshi stands at the left in the display. Akiyoshi carries a cell phone to take a photo. Akiyoshi appears to be shorter than the right person, though the former is taller than the latter.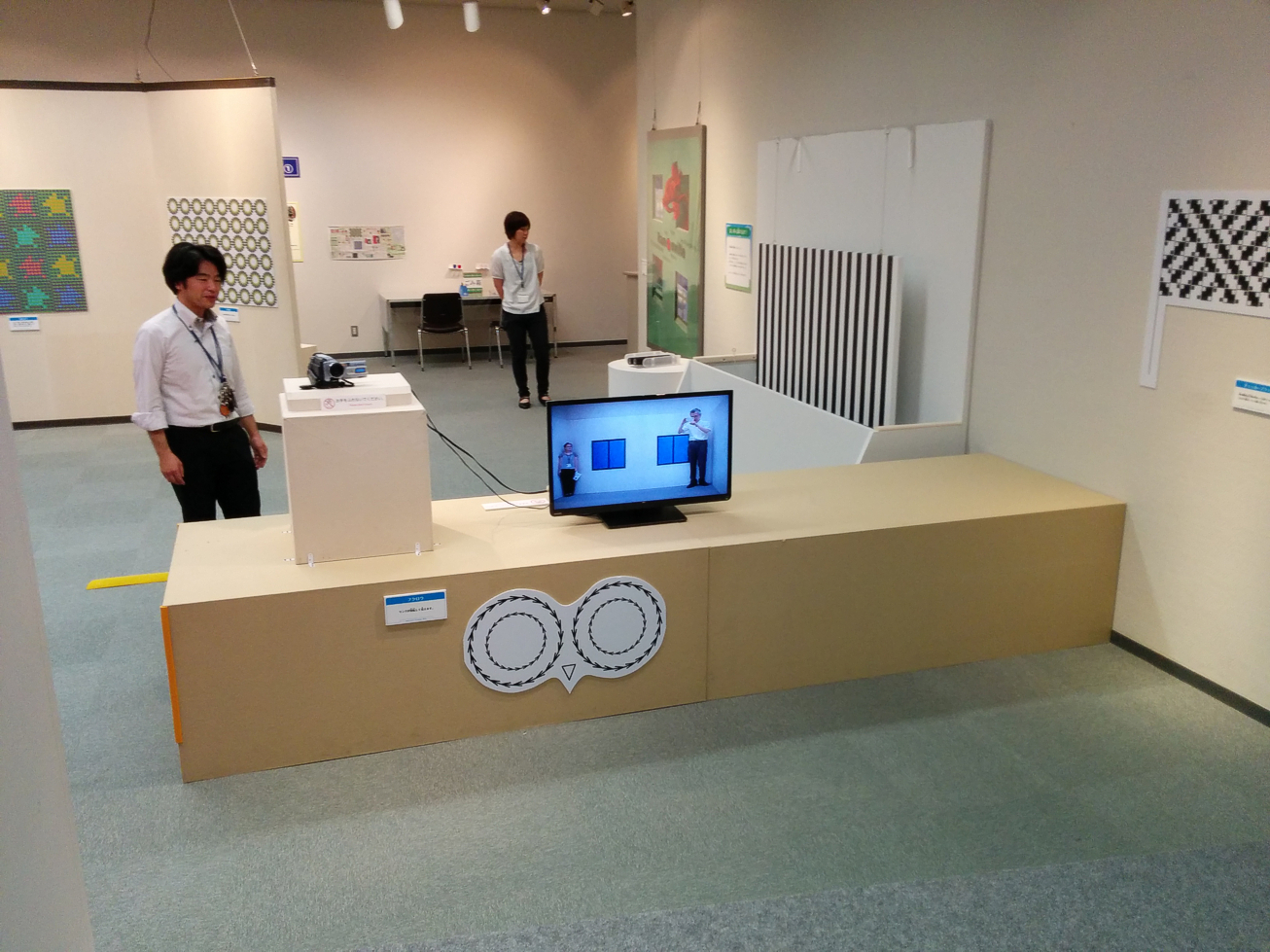 Akiyoshi stands at the right in the display. Akiyoshi appears to be much taller than the right person.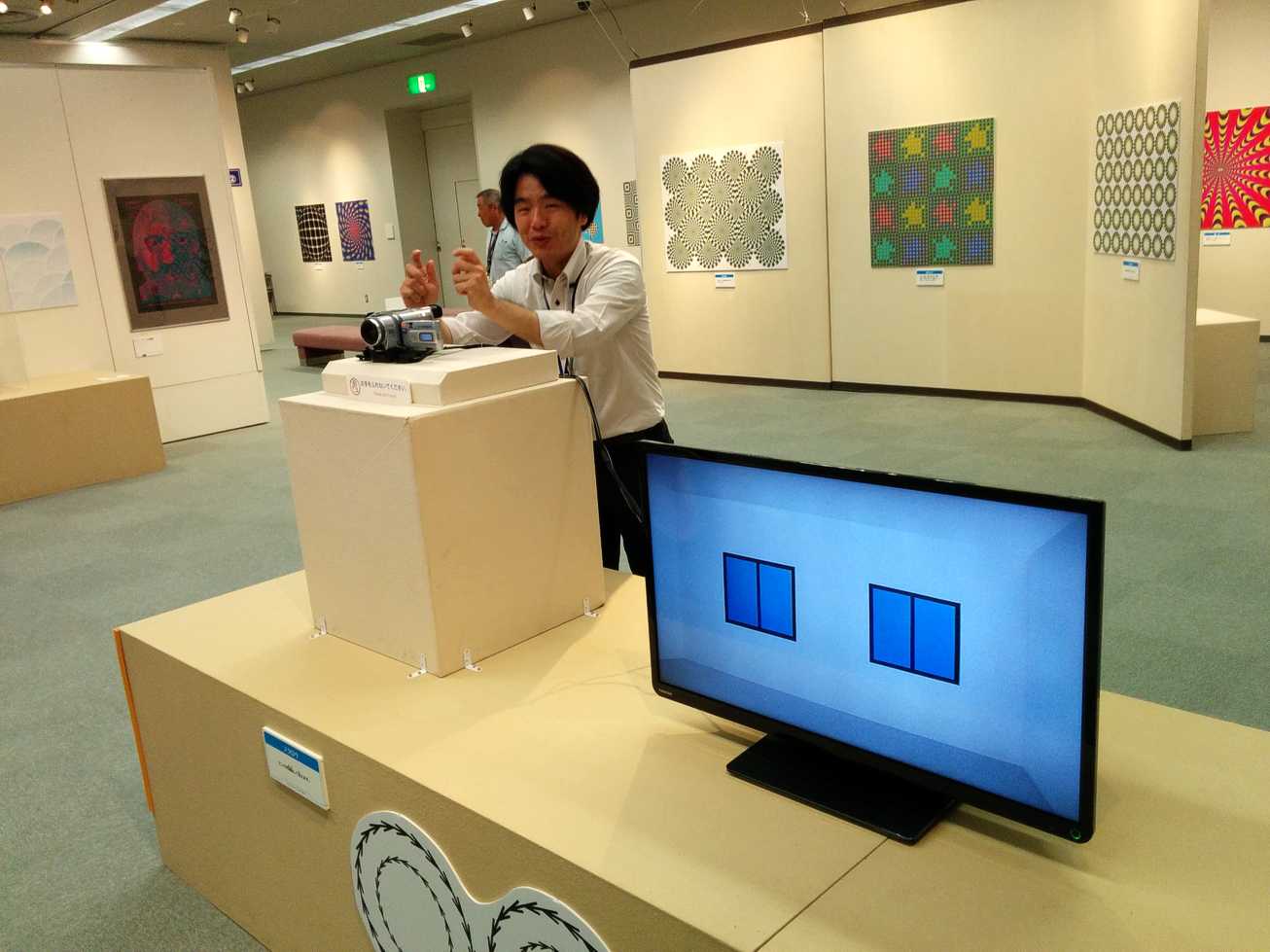 "The third person can take photos at this position."
<August 4, 2014>
---
A new paper that reports "cats see the Rotating snkes illusion" has been published!
Bååth, R., Seno, T., and Kitaoka, A. (2014). Cats and Illusory Motion. Psychology, 5, 1131-1134. PDF (open Access)
http://www.scirp.org/journal/PaperInformation.aspx?PaperID=48304#.U9sS2WOPTT8

http://dx.doi.org/10.4236/psych.2014.59125 (PDF)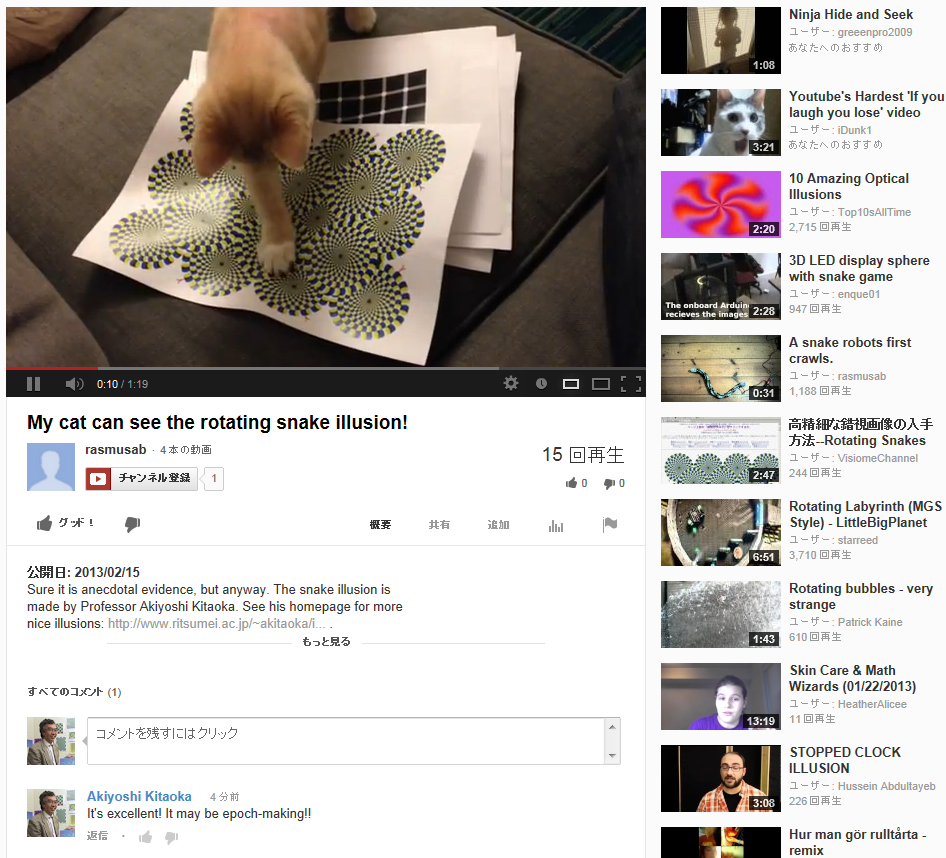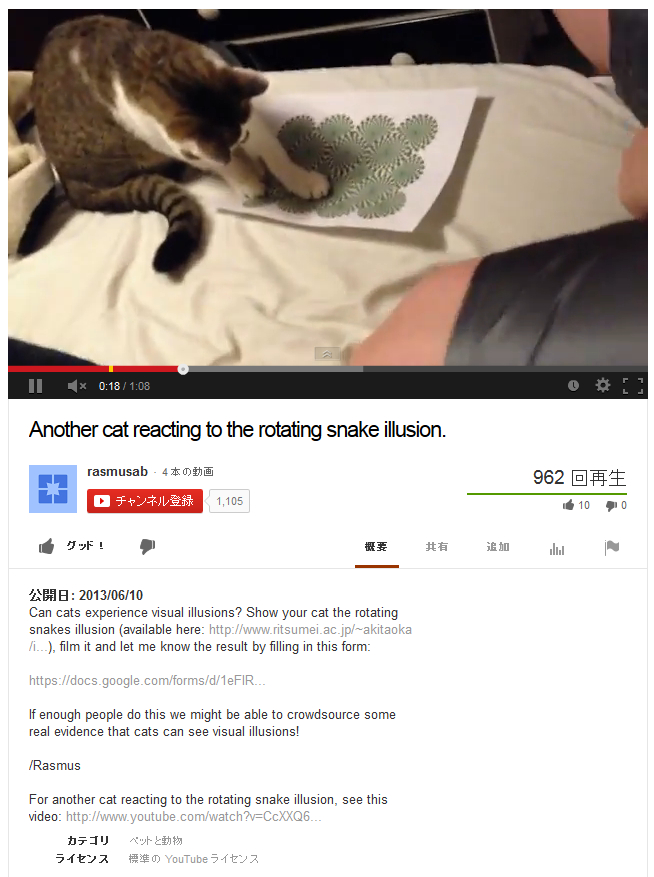 <August 1, 2014>
---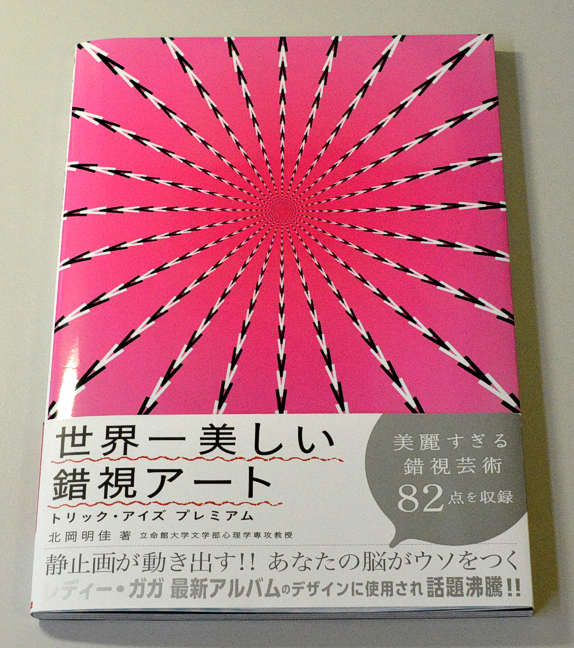 Kitaoka, A. (2014). The most beautiful illusion art in the world: Trick eyes premium. Tokyo: Kanzen. ISBN978-4-86255-251-81 (128 pages) 1700JPY + tax
<June 18, 2014>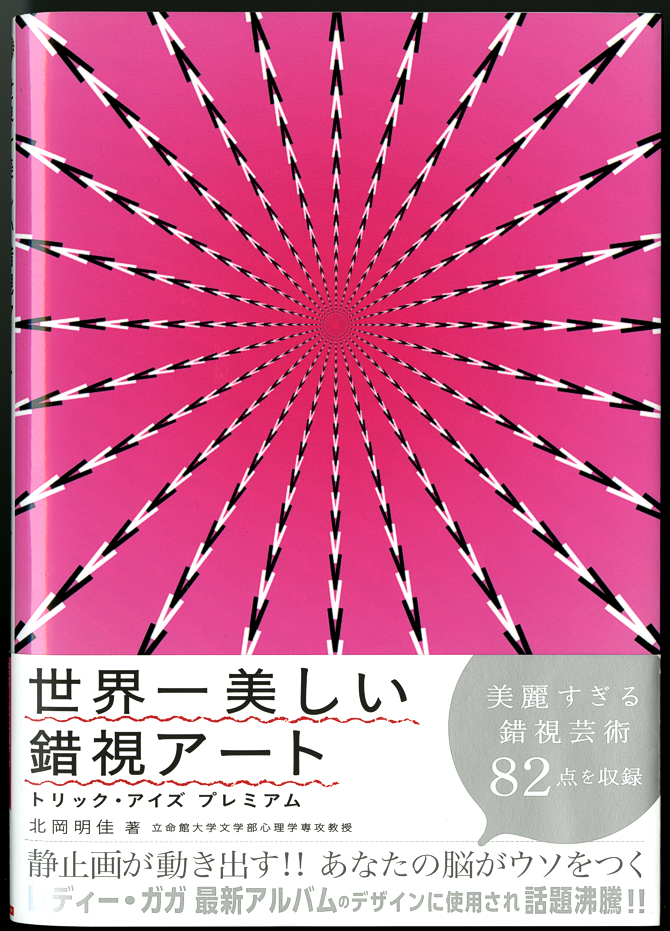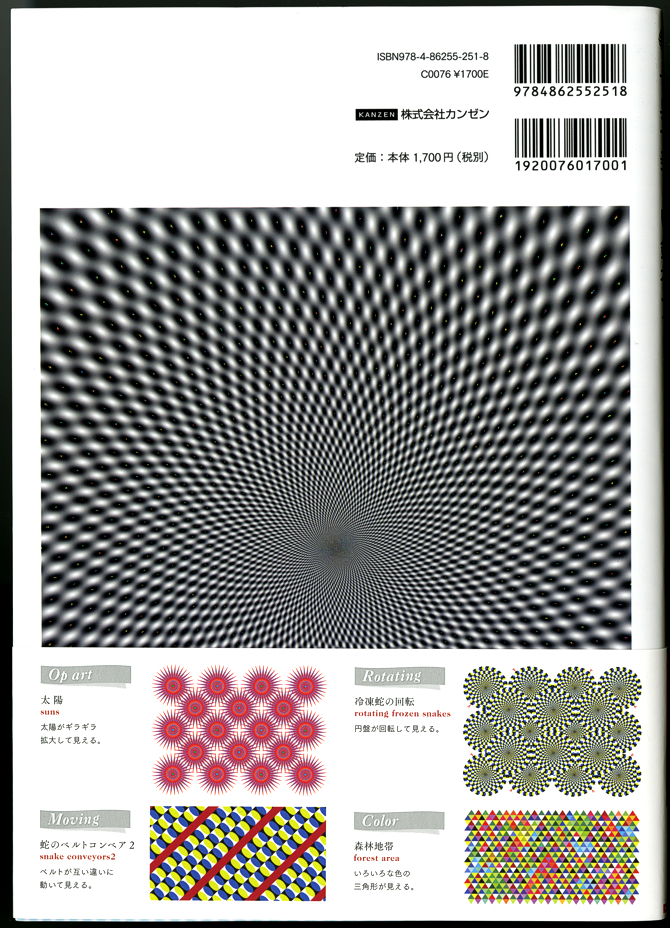 ---
"Illusion jigsaw puzzle" will be soon sold by Beverly.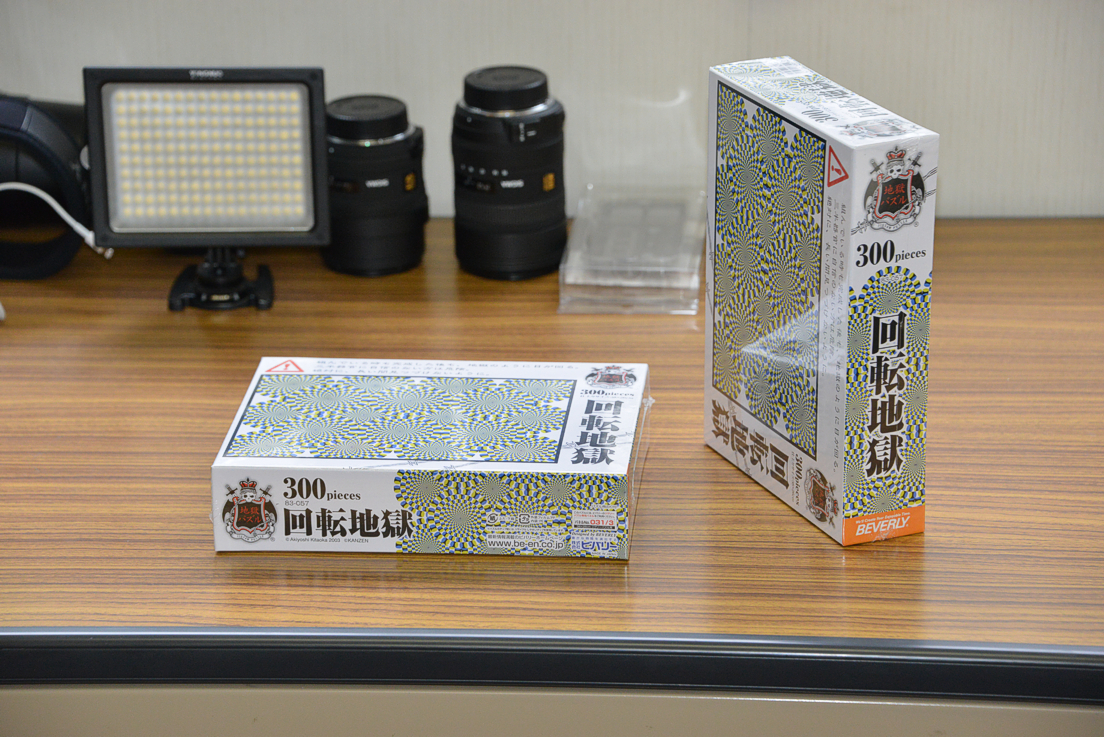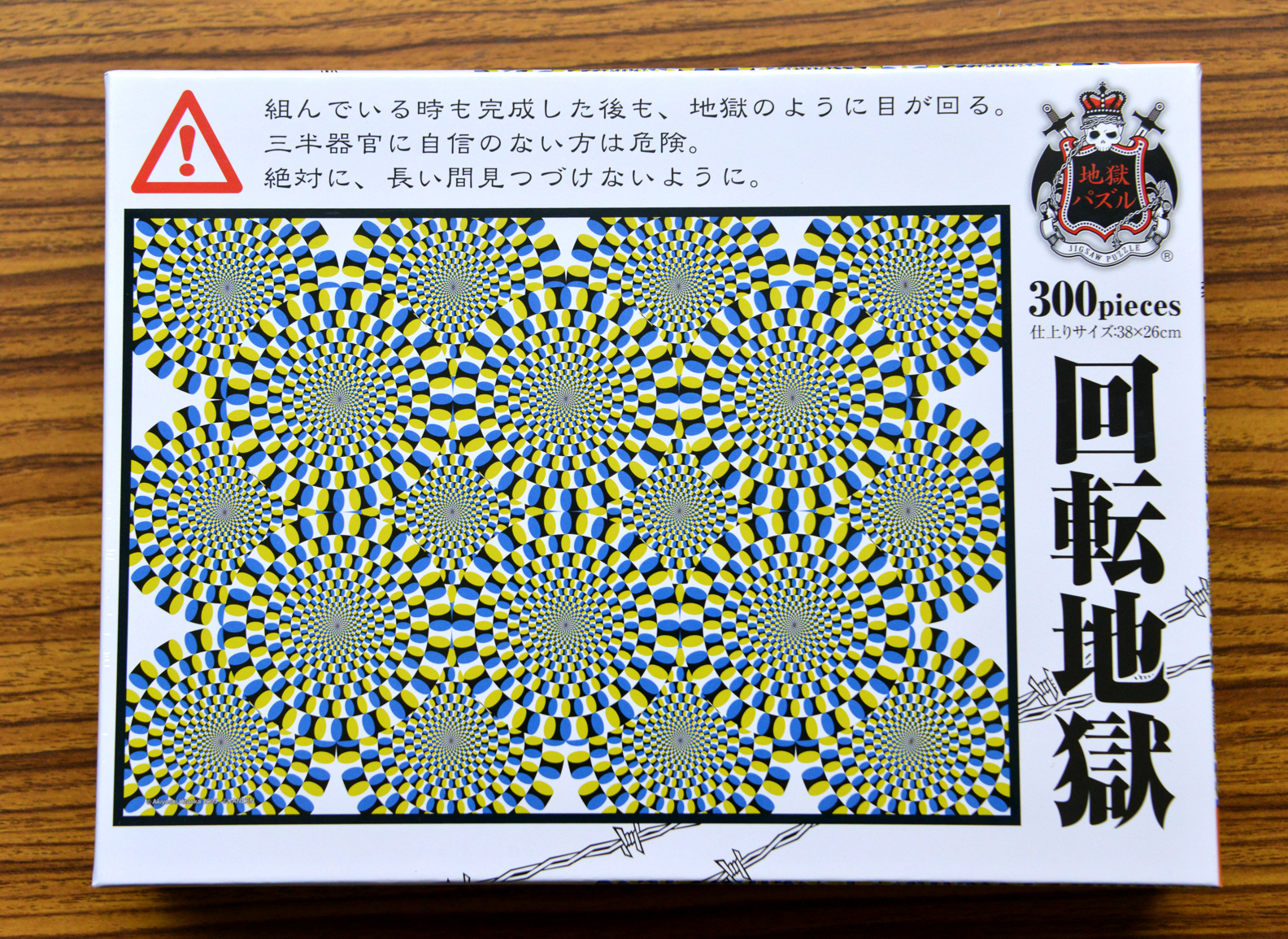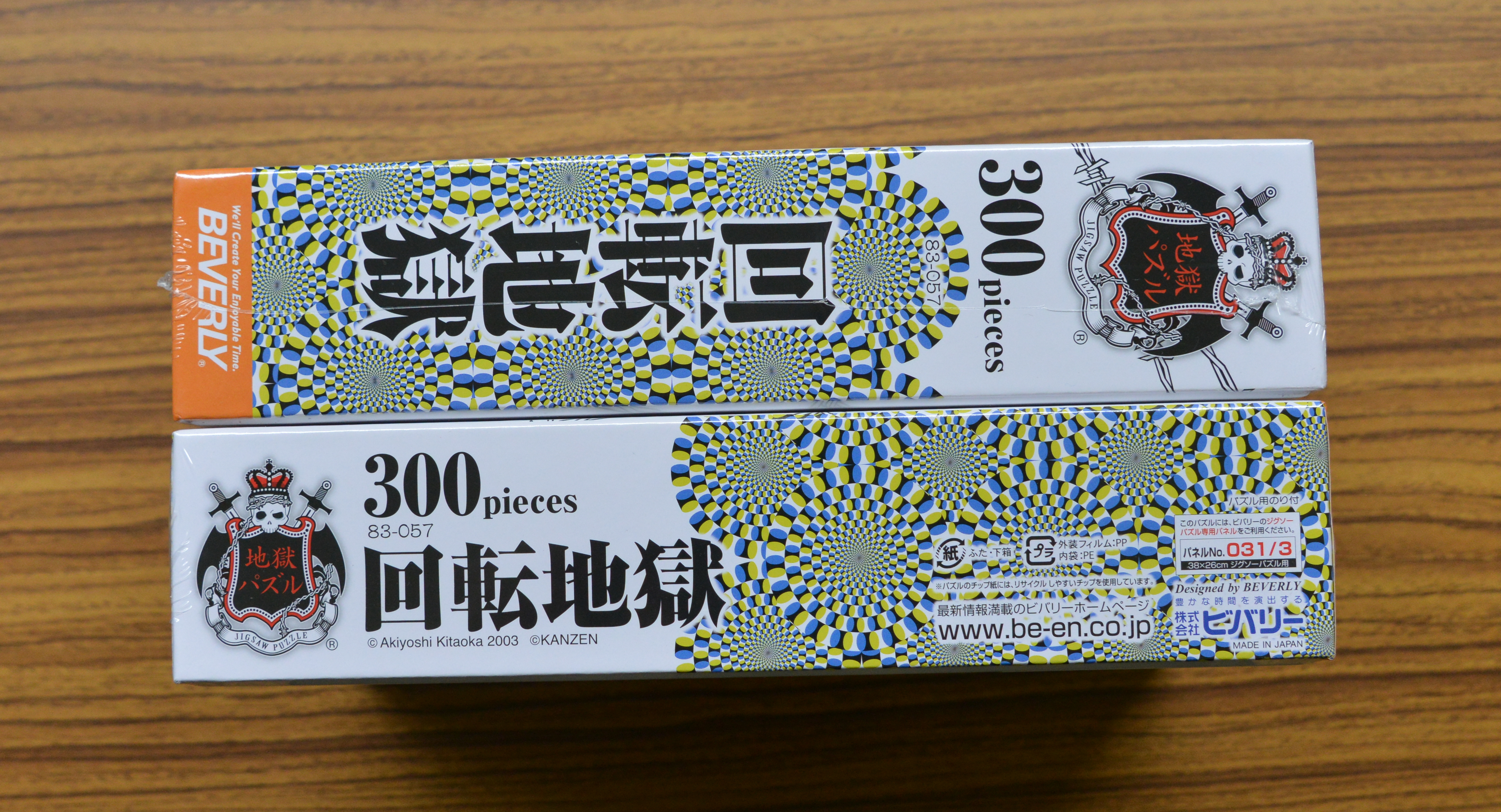 <June 30, 2014>
---
Illusion news 17 (July 2013 - May 2014)
Illusion news 16 (January 2013 - May 2013)
Illusion news 15 (April 2011 - December 2012)
Illusion news 14 (July 2010 - April 2011)
Illusion news 13 (September 2009 - June 2010)
Illusion news 12 (March 2009 - June 2009)
Illusion news 11 (September 2008 - January 2009)
Illusion news 10 (May 2008 - September 2008)
Illusion news 9 (February 2008 - April 2008)
Illusion news 8 (November 2007 - February 2008)
Illusion news 7 (September 2007 - October 2007)
Illusion news 6 (June 2007 - September 2007)
Illusion news 5 (January 2007 - May 2007)
Illusion news 4 (January 2006 - December 2006)
Illusion news 3 (January 2006 - May 2006)
Illusion news 2 (April 2005 - December 2005)
Illusion news 1 (2002 - March 2005)
---