Rotating snakes 18
I produced several variants of "Rotating snakes" because this work seems to be preferred by many people.
since July 7, 2019
---

Motion Illusions as Environmental Enrichment for Zoo Animals: A Preliminary Investigation on Lions (Panthera leo)
https://www.frontiersin.org/articles/10.3389/fpsyg.2019.02220/full
---

Bach M & Atala-Gérard L (2020) The Rotating Snakes Illusion is a straightforward consequence of non-linearity in arrays of standard motion detectors, i-Perception 11(5), 1–9
https://journals.sagepub.com/doi/full/10.1177/2041669520958025
---

Gori, S., Agrillo, C., Dadda, M., & Bisazza, A. (2014). Do fish perceive illusory motion? Scientific Reports, 4: 6443, 1-6. doi: 10.1038/srep06443
"Herein, we show that fish perceive one of themost studied motion illusions, the Rotating Snakes. Fish responded similarly to real and illusory motion."
https://www.nature.com/articles/srep06443
<March 15, 2020>
---

Agrillo, C., Gori, S., & Beran, M. J. (2015). Do rhesus monkeys (Macaca mulatta) perceive illusory motion? Animal Cognition, 18 (4), 895-910. doi: 10.1007/s10071-015-0860-6
"These results suggest that some rhesus monkeys display a human-like perception of this motion illusion*, raising the possibility that the neurocognitive systems underlying motion perception may be similar between human and non-human primates."
*Rotating snakes illusion
https://link.springer.com/article/10.1007%2Fs10071-015-0860-6
<March 14, 2020>
---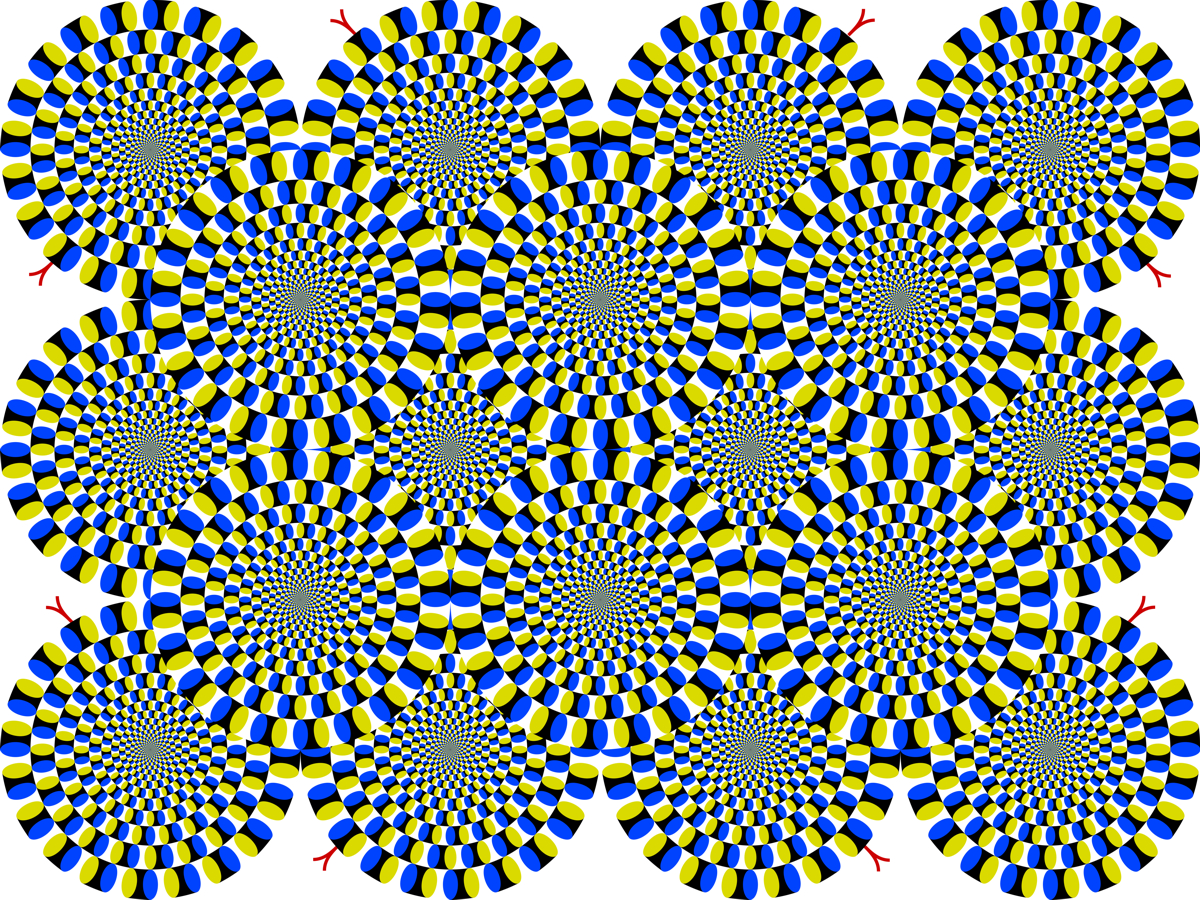 "Rotating snakes 2020"
Disks appear to rotate.
Copyright Akiyoshi Kitaoka 2020 (February 4)
---
---
Regaiolli B, Rizzo A, Ottolini G, Miletto Petrazzini ME, Spiezio C and Agrillo C (2019) Motion Illusions as Environmental Enrichment for Zoo Animals: A Preliminary Investigation on Lions (Panthera leo). Front. Psychol. 10:2220. doi: 10.3389/fpsyg.2019.02220
https://www.frontiersin.org/articles/10.3389/fpsyg.2019.02220/full
<October 5, 2019>
---
---
---