蛇の回転 17
人気があるので、自己模倣とは思いつつ、「蛇の回転」作品のバリエーションを増やした。
2014年6月30日より
---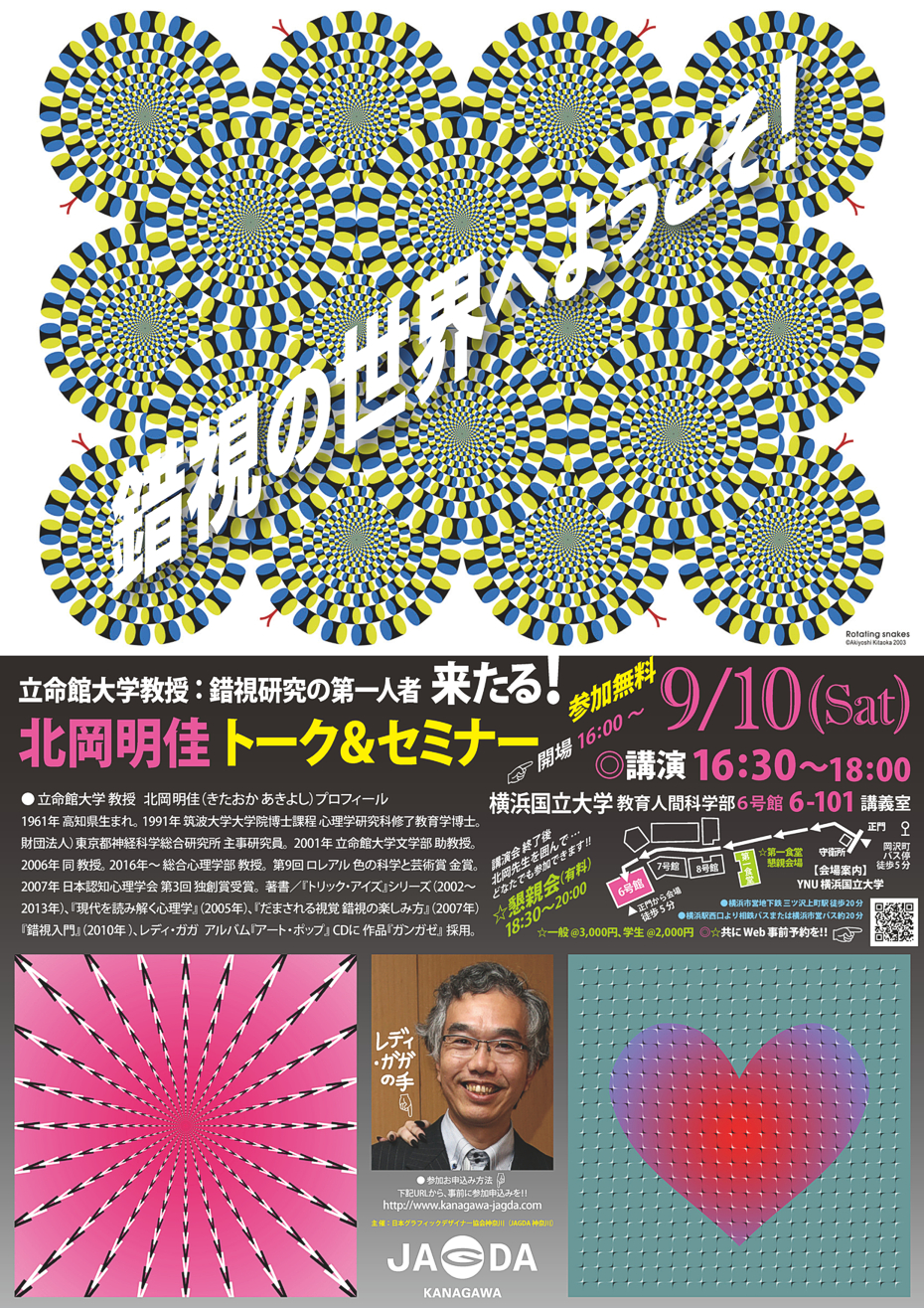 <July 31, 2016>
---
Illusory visual motion stimulus elicits postural sway in migraine patients
1Graduate School of Engineering, Chiba University, Chiba, Japan
2Japan Society for the Promotion of Science, Tokyo, Japan
3School of Medicine, Showa University, Tokyo, Japan
4School of Mechanical and Aerospace Engineering, Nanyang Technological University, Singapore, Singapore
Although the perception of visual motion modulates postural control, it is unknown whether illusory visual motion elicits postural sway. The present study examined the effect of illusory motion on postural sway in patients with migraine, who tend to be sensitive to it. We measured postural sway for both migraine patients and controls while they viewed static visual stimuli with and without illusory motion. The participants' postural sway was measured when they closed their eyes either immediately after (Experiment 1), or 30 s after (Experiment 2), viewing the stimuli. The patients swayed more than the controls when they closed their eyes immediately after viewing the illusory motion (Experiment 1), and they swayed less than the controls when they closed their eyes 30 s after viewing it (Experiment 2). These results suggest that static visual stimuli with illusory motion can induce postural sway that may last for at least 30 s in patients with migraine.
http://journal.frontiersin.org/article/10.3389/fpsyg.2015.00542/full
Imaizumi S, Honma M, Hibino H and Koyama S (2015) Illusory visual motion stimulus elicits postural sway in migraine patients. Front. Psychol. 6:542. doi: 10.3389/fpsyg.2015.00542
<December 5, 2015>
---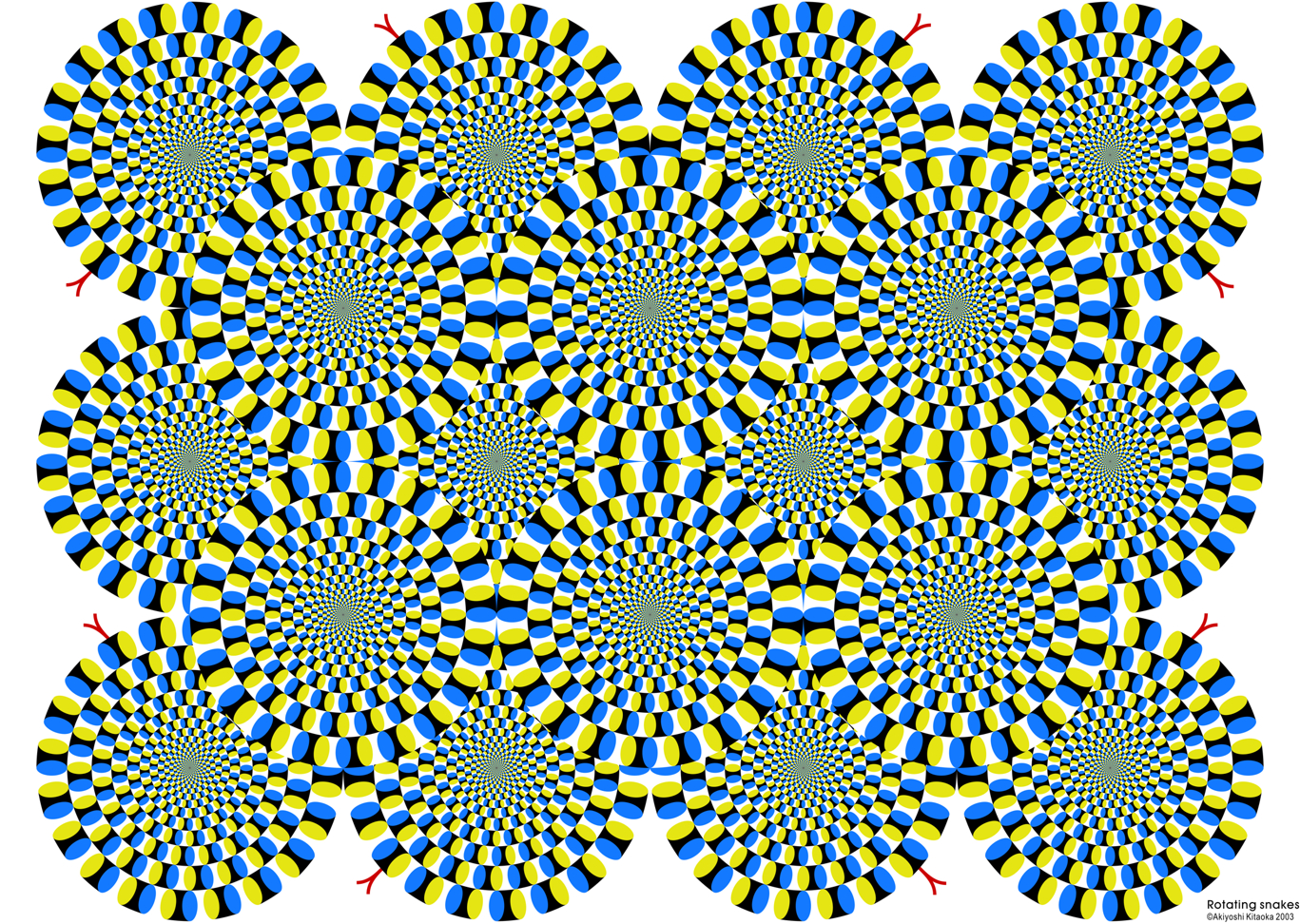 「蛇の回転」
(2015年版)
円盤が回転して見える。
Copyright Akiyoshi Kitaoka 2003, 2015 (February 2)
---
Reply to a query

The illusion shown in the image consists of two illusions shown in the attached file. They belong to Type I of the optimized Fraser-Wilcox illusion, one being a motion illusion from dark to light and the other being one from light to dark.
There are two major hypotheses.
Hypothesis 1 (apparent movement hypothesis).
It is assumed that higher-contrast regions give a shorter latency to be visible than lower-contrast ones. This means that the former is seen first and the latter follows. Then, apparent movement is perceived in the direction from the former to latter.
Backus, B. T. and Oruç, I. (2005) Illusory motion from change over time in the response to contrast and luminance. Journal of Vision, 5, 1055-1069.
Conway, R. B., Kitaoka, A., Yazdanbakhsh, A., Pack, C. C., and Livingstone, M. S. (2005) Neural basis for a powerful static motion illusion. Journal of Neuroscience, 25, 5651-5656.
Hypothesis 2 (difference-of-motion-signal hypothesis).
It is assumed that given motion signals are stronger when the retinal image is moved from higher-contrast regions to lower-contrast ones than when it is slided from lower-contrast regions to high-contrast ones. This hypothesis needs involvement of constantly multidirected involuntary eye movement to feed the motion perception system with motion signals.
Murakami, I., Kitaoka, A. and Ashida, H. (2006) A positive correlation between fixation instability and the strength of illusory motion in a static display. Vision Research, 46, 2421-2431.
<June 5, 2015>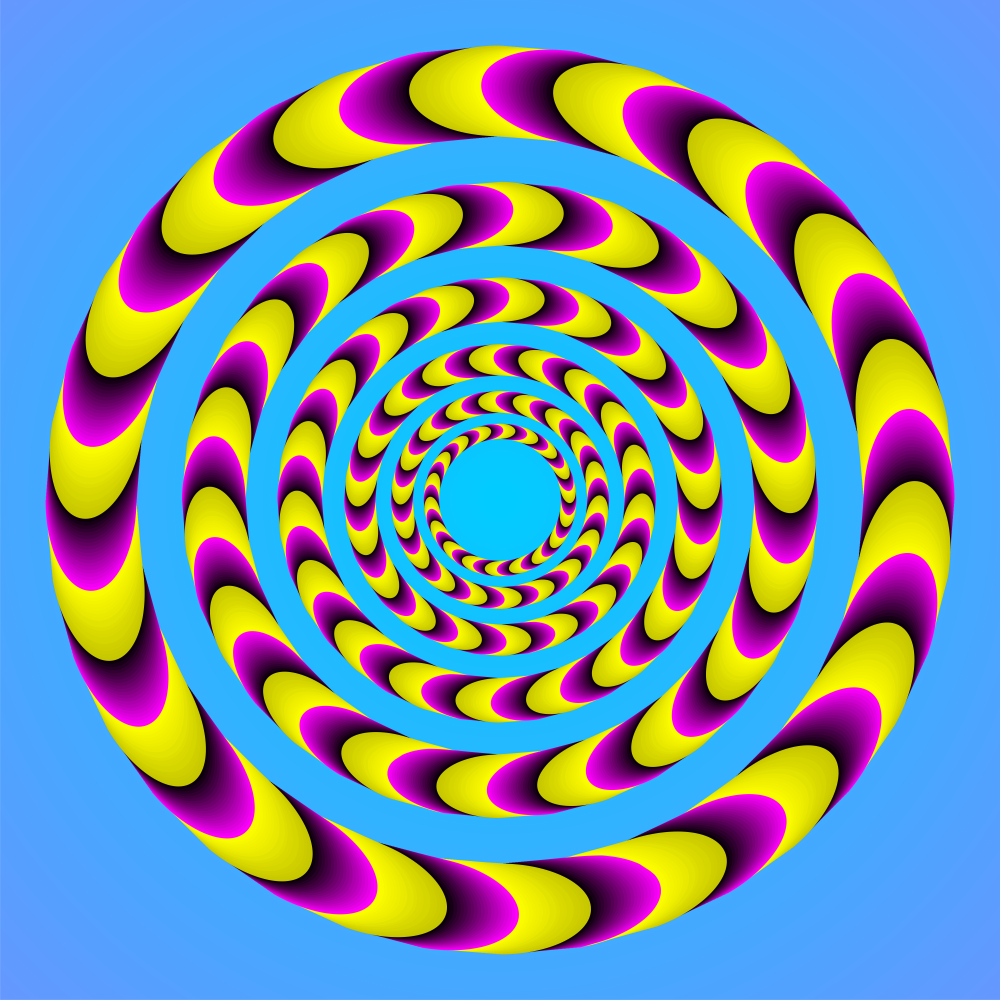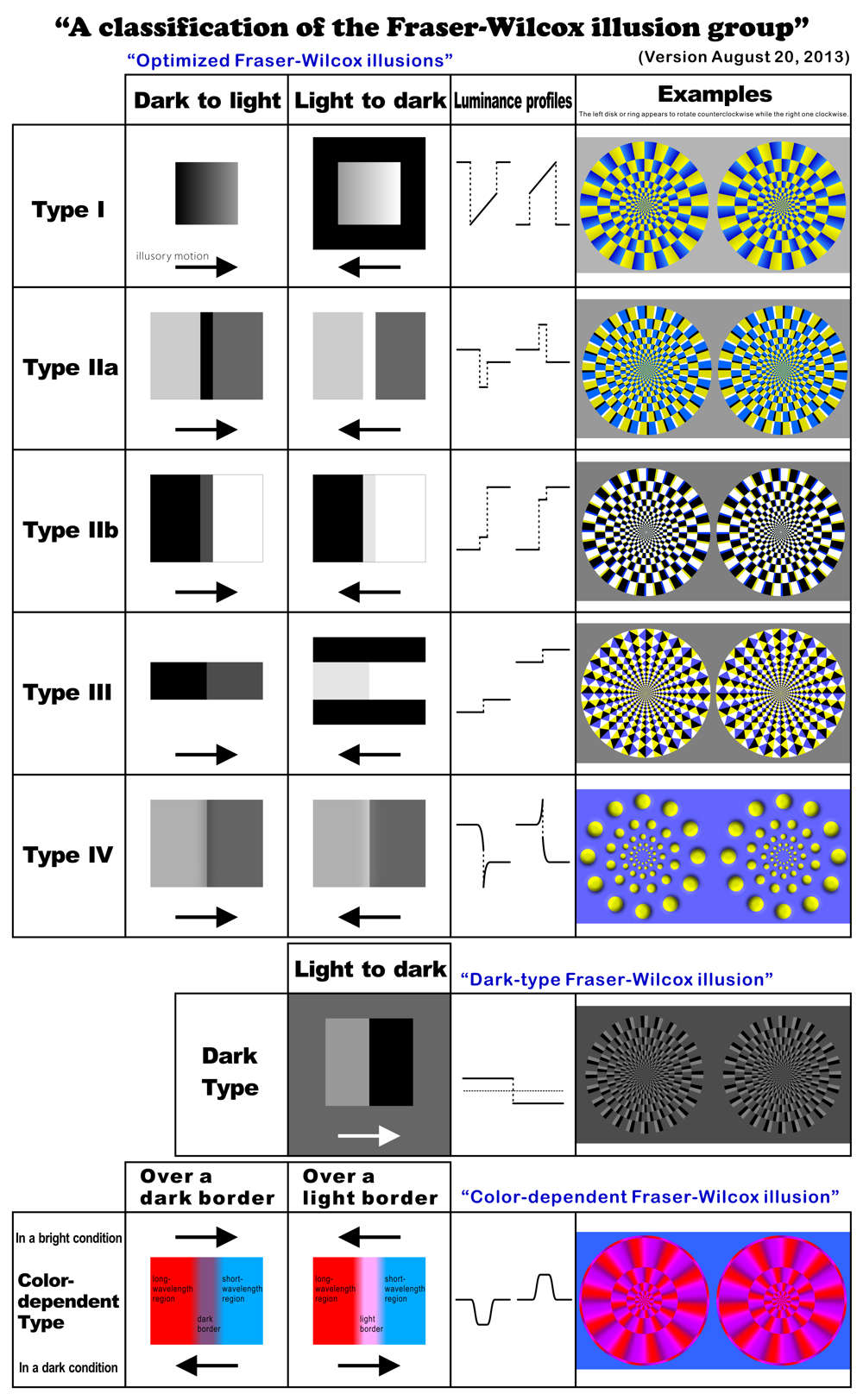 ---
Gladilin E and Eils R (2015) On the role of spatial phase and phase correlation in vision, illusion, and cognition. Front. Comput. Neurosci. 9:45. doi: 10.3389/fncom.2015.00045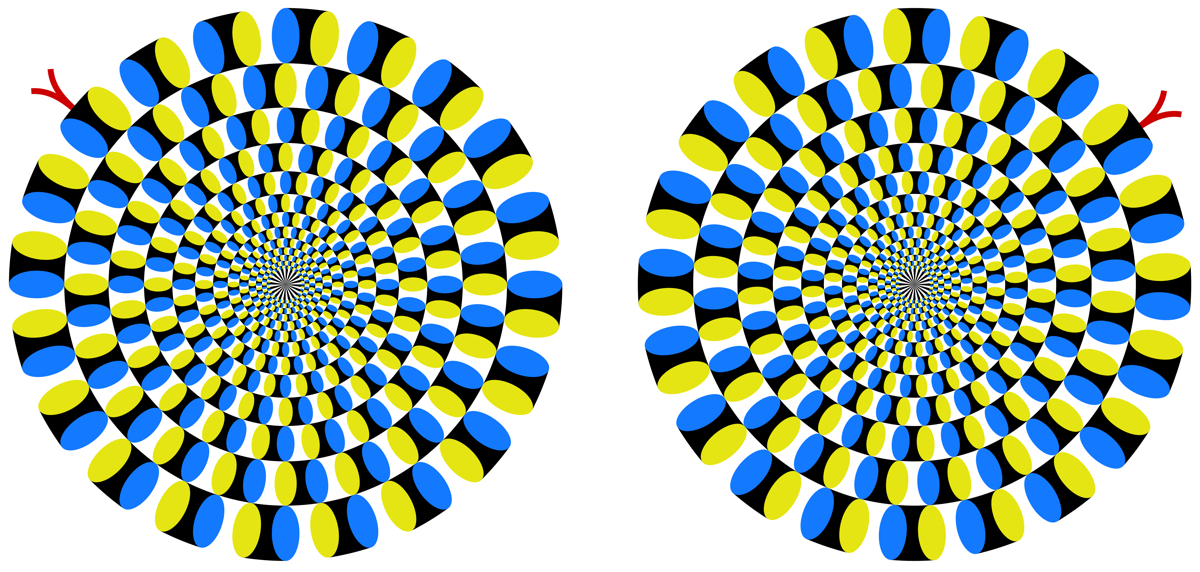 <April 22, 2015>
---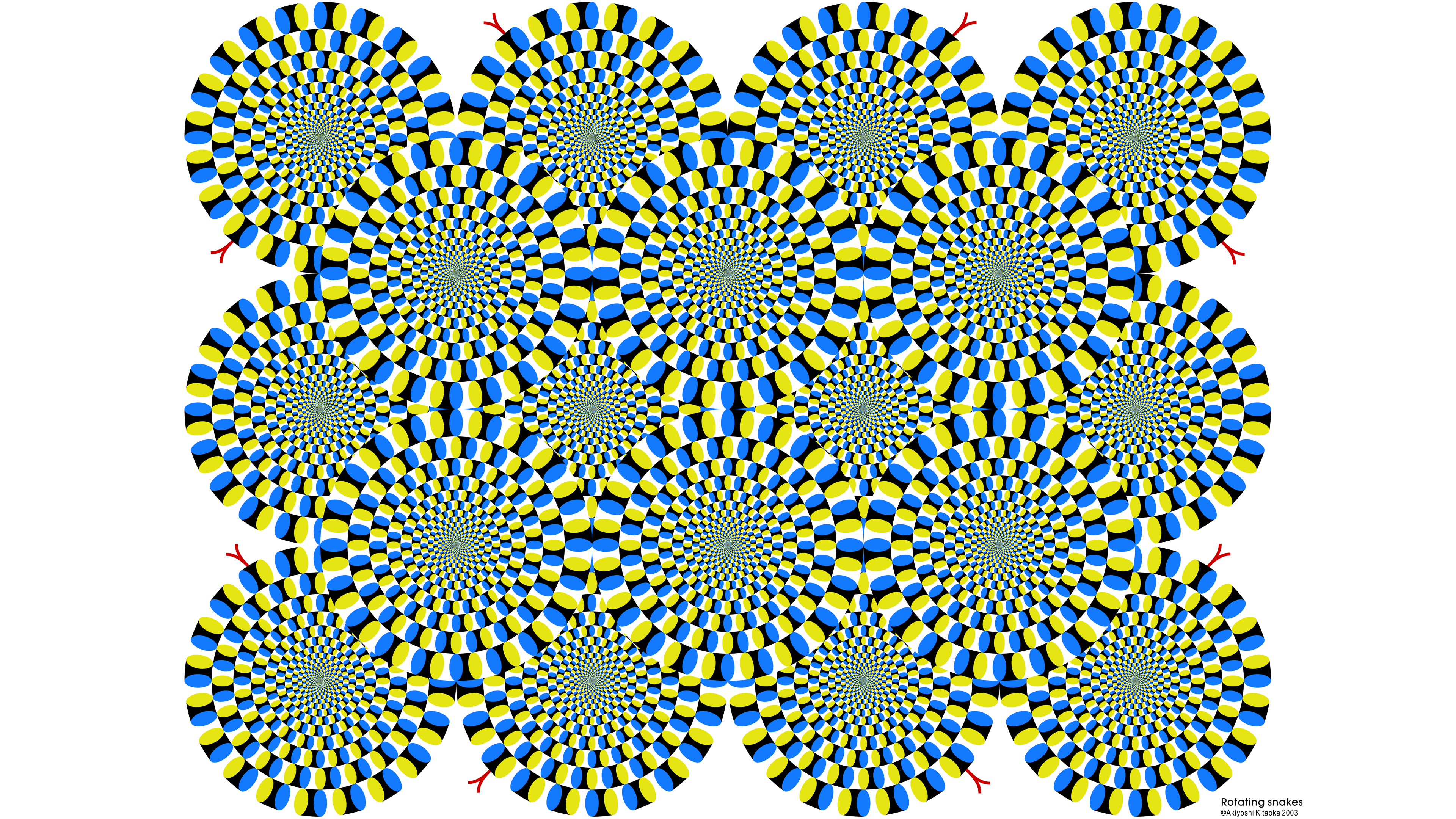 「4K用蛇の回転」
円盤が回転して見える。 (3840 x 2160 pixel)
Copyright Akiyoshi Kitaoka 2015 (February 2)
---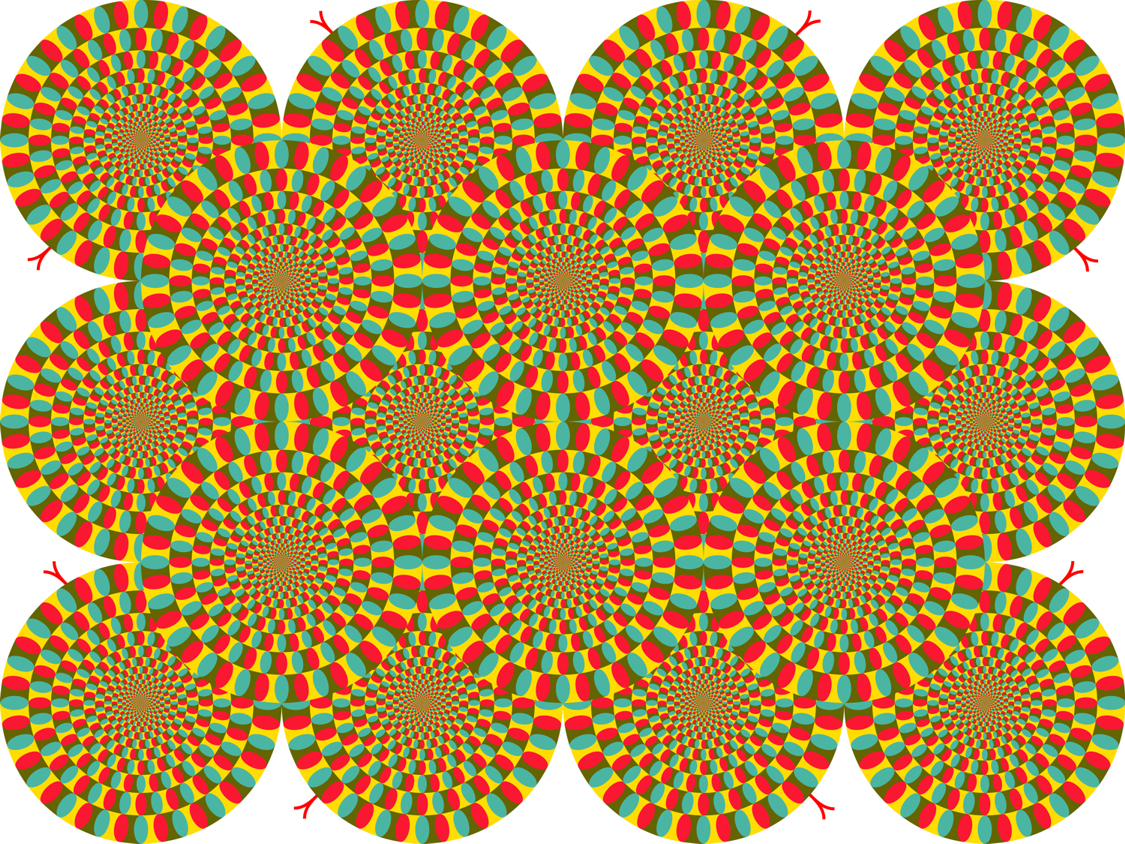 「蛇の回転・るくる色」
円盤が回転して見える。
Copyright Akiyoshi Kitaoka 2014 (October 8)
---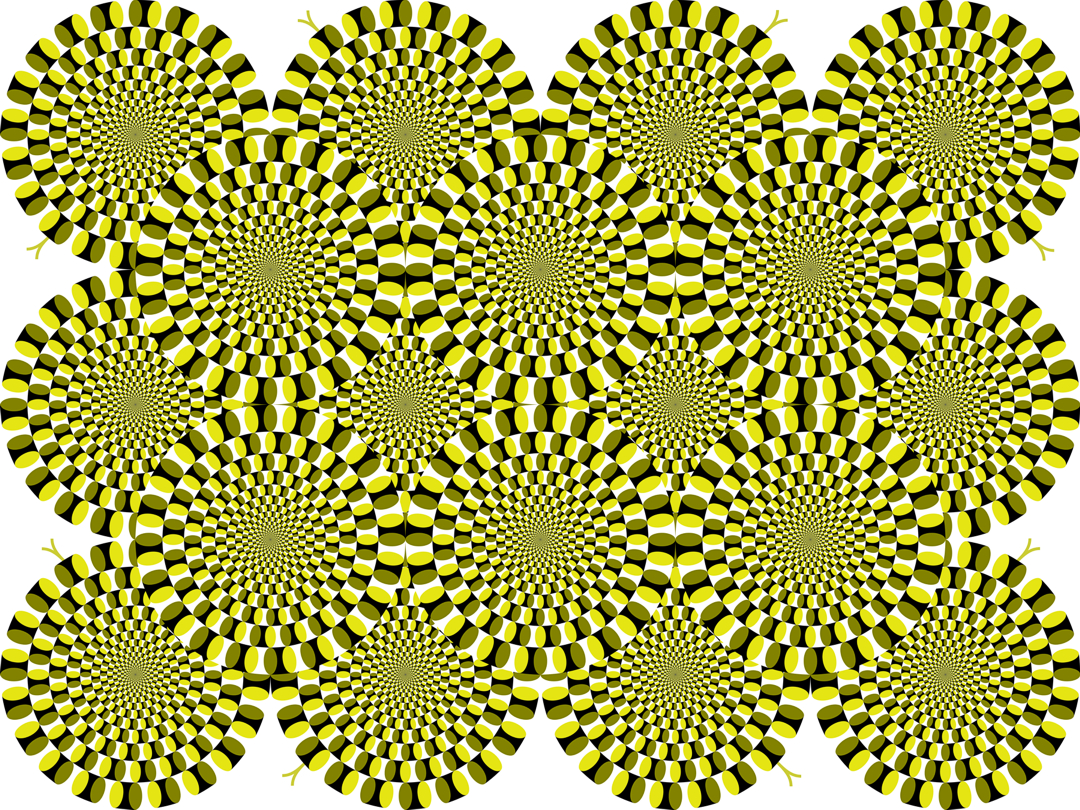 「蛇の回転・黄色」
円盤が回転して見える。
Copyright Akiyoshi Kitaoka 2014 (September 26)
---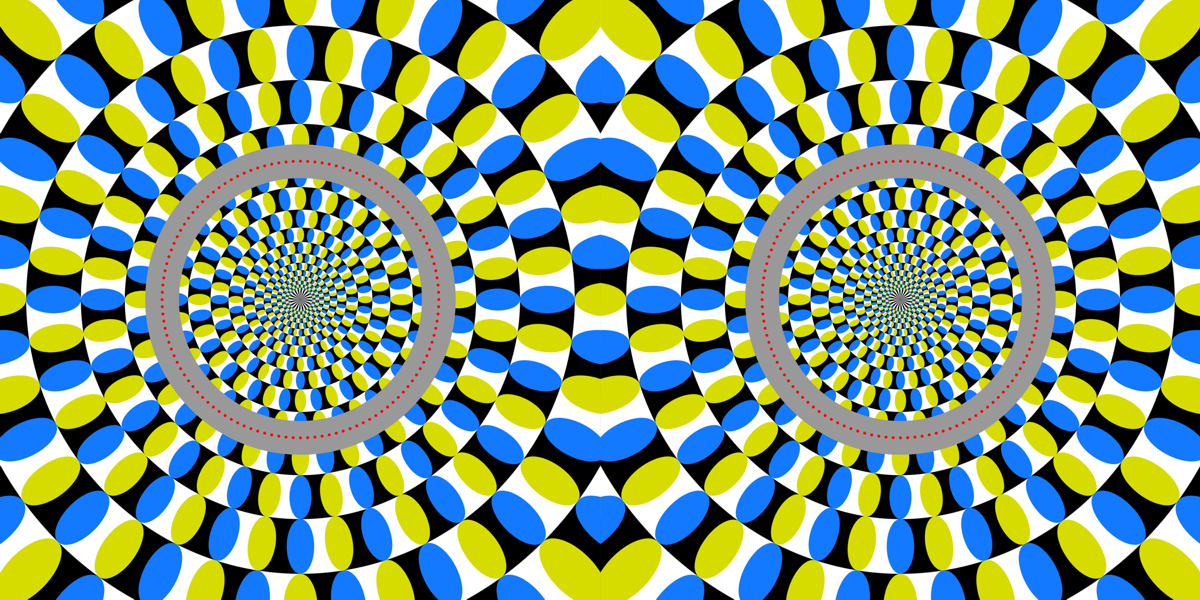 「ミミズク」
目が回転して見える。
Copyright Akiyoshi Kitaoka 2014 (September 5)
---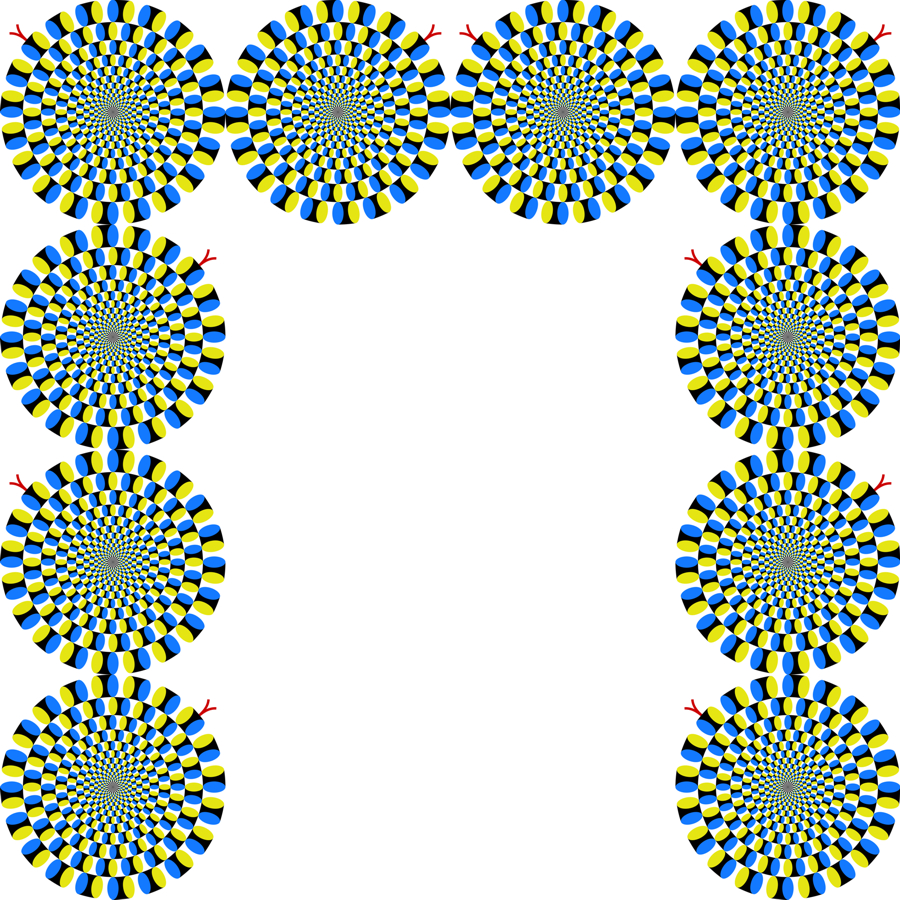 「蛇の回転門」
円盤が回転して見える。記念写真向き。
Copyright Akiyoshi .Kitaoka 2014 (June 29)



記念写真はこんな感じ?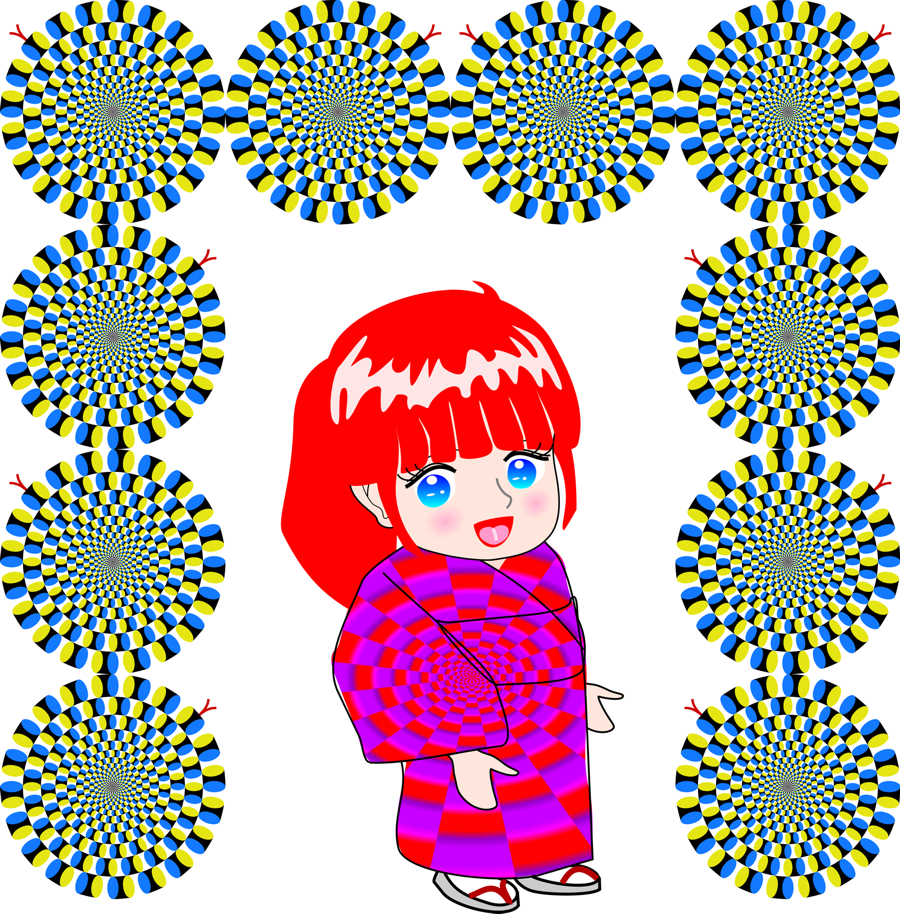 ---
---